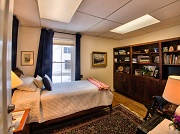 5 Pleasant Street Stowe, VT, 05672 Phone: 802-734-0661
Make This 150-Year-Old Family Home Your Base at Stowe
Innkeeper Mary Skelton has restored her family's 150-year-old family home into this intimate bed-and-breakfast inn in Stowe, so you will find yourself in a historic place just by crossing her threshold. Guests who rent the whole place can bring 7 friends to spread out in four bedrooms, two bathrooms, a warm sunroom and verdant yard. Or take a single room and come and go as you please, once you have been prepped for the day by a lavish Vermont breakfast. Stowe and its ski mountain are part of an old community, with a long tradition of winter and summer recreation, a popular Recreation Path, and lots of places to find unique shopping and dining on fresh Vermont foods, always prepared with pride.
48 Lower Waterford Road Lower Waterford, VT, 05848 Phone: 802-748-5168
Romantic inn takes guests back to more relaxed era
Hospitality is an age-old tradition at the Rabbit Hill Inn, which began in the late 1700s as a place where traders traveling from Montreal to Boston or Portland could hoist a tankard of ale and lodge overnight. Save one period in the 1900s when it was a private home, Rabbit Hill has been an inn ever since. Today's guests in the 19-room bed and (fabulous) breakfast inn will discover not only modern comforts (some rooms have double hydromassage tubs) but those that harken back to a relaxed age: a candlelit dining room serving exquisitely crafted American fare, crackling fireplaces, puzzles in cozy sitting rooms, lemonade in the afternoon on the porch and gazebos where you can read – or just listen to the waterfall. Rated #30 of the Top 100 Hotels Worldwide, #6 in the USA, and #2 in the Northeast by Travel & Leisure, July 2017.