Historic Lodgings in Northern Vermont
48 Lower Waterford Road Lower Waterford, VT, 05848 Phone: 802-748-5168
Romantic inn takes guests back to more relaxed era
Hospitality is an age-old tradition at the Rabbit Hill Inn, which began in the late 1700s as a place where traders traveling from Montreal to Boston or Portland could hoist a tankard of ale and lodge overnight. Save one period in the 1900s when it was a private home, Rabbit Hill has been an inn ever since. Today's guests in the 19-room bed and breakfast will discover not only modern comforts (some rooms have double hydromassage tubs) but those that harken back to a relaxed age: a candlelit dining room serving exquisitely crafted American fare, crackling fireplaces, puzzles in cozy sitting rooms, lemonade in the afternoon on the porch and gazebos where you can listen to the waterfall. Rated #30 of the Top 100 Hotels Worldwide, #6 in the USA, and #2 in the Northeast by Travel & Leisure, July 2017.
793 VT Route 5A South Westmore, VT, 05860 Phone: 802-525-4123 Toll-Free: 800-594-9102
An historic inn & location worthy of great poets
If traveling through Vermont's magnificent Northeast Kingdom to get to the WilloughVale Inn and Cottages reminds you of poetry, you're in good company. In 1909, beloved poet Robert Frost camped with his family in tents on land that ultimately became inn property. He got milk and eggs from the then-Conley Farmhouse. Now you can stay in the cozy Robert Frost Cottage with its views of the mountains and Lake Willoughby, which Frost called a "fair, pretty sheet of water." Seven other cottages plus 11 rooms at the romantic inn provide the perfect getaway every season of the year. Activities at or nearby the inn range from canoeing and kayaking in the warmer months to skiing, dog-sledding and snowmobiling in the winter.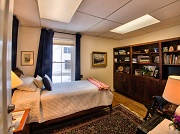 5 Pleasant Street Stowe, VT, 05672 Phone: 802-734-0661
Make This 150-Year-Old Family Home Your Base at Stowe
Innkeeper Mary Skelton has restored her family's 150-year-old family home into this intimate bed-and-breakfast inn in Stowe, so you will find yourself in a historic place just by crossing her threshold. Guests who rent the whole place can bring 7 friends to spread out in four bedrooms, two bathrooms, a warm sunroom and verdant yard. Or take a single room and come and go as you please, once you have been prepped for the day by a lavish Vermont breakfast. Stowe and its ski mountain are part of an old community, with a long tradition of winter and summer recreation, a popular Recreation Path, and lots of places to find unique shopping and dining on fresh Vermont foods, always prepared with pride.