Natural Beauty So Grand It (Almost) Competes With the Bride
Even people who have not set foot in Vermont know about the legendary beauty of the state, from the sprawling islands streaming down the center of Lake Champlain to the blazing mountainsides of foliage season. Why not use the state's natural beauty at a backdrop for your wedding? Inns, B&Bs and farms in Vermont can host a marvelous wedding in settings from historic barns to meadows to river valleys with the help of tents, catering, and expert help of all kinds.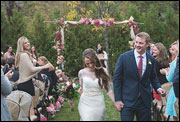 3835 Main Street Manchester Village, VT, 05254 Phone: 802-362-0147 Toll-Free: 877-699-3331
Nestled among mountains, hotel provides soaring backdrop for weddings
Panoramic mountain views, apple-crisp Vermont air: Who wouldn't want the great outdoors to be a prime part of their wedding day? At the Kimpton Taconic Hotel, in picturesque Manchester Village, that means gathering with your wedding party in the morning on the wide, shady grand porch for coffee al fresco, having your exquisitely catered reception on The Green or cocktails on the south terrace or around the fire pit. And the photo possibilities are endless, from covered wooden bridges to porches with magnificent peaks in the background. Even wedding menu items have a taste of the outdoors: smoked salmon rangoons, butter-braised Atlantic cod. After your big day, spend your wedding night in a luxurious cottage or suite, waking to a sumptuous farewell brunch buffet.
1746 Mountain Road Stowe, VT, 05672 Phone: 802-253-7355 Toll-Free: 800-253-2232
Soaring mountain backdrops elevate your wedding-day experience
Amid the glorious Green Mountains of Vermont, the 60-acre Stoweflake Mountain Resort & Spa offers brides and grooms breathtaking outdoor venues to exchange vows, from intimate poolside settings to a courtyard stretching out over lush manicured lawns and spectacular gardens. Have your reception under a Camelot-like tent, where guests can enjoy gourmet meals (even a caviar station), perhaps stepping outside occasionally to appreciate the panoramic views. One wedding package even includes a hot air balloon ride for the married couple. But the resort does not just rest on its mountain laurels when it comes to making your wedding more than memorable. Specialized wedding coordinators will help you plan everything from nerve-reducing spa treatments to cakes, candles and crystal.
458 Hill Farm Road Sunderland, VT, 05250 Phone: 802-375-2269
Scenic Vermont property for the wedding of your dreams
Plan your wedding at Hill Farm on its beautiful property with unmatched views and a rich Vermont farm to table culinary tradition. Reserve the entire Inn and grounds for a weekend with lodging available in the Main Inn, 1790 House, and Farm House. You and your guests will have the cozy pub and covered porches all to yourself to relax, catch up and celebrate. Outdoor event spaces are available as well as the dining room which seats thirty and the new Unity Barn, which can accommodate up to one hundred. You'll be in good hands with Mariah and staff who will help produce your event and recommend a complete list of talented wedding professionals – planners, florists, photographers, musicians, and more.
195 Mountain Top Road Chittenden, VT, 05737 Phone: 802-483-2311
Mountains, meadows stunning wedding backdrop
Sweeping spring meadows, lush summer woodlands, snow-capped winter mountains, forests of fall color: Couples can choose their spectacular backdrop at the Mountain Top Inn & Resort in Central Vermont, an idyllic wedding spot – named one of the nation's best by Brides Magazine – in any season. Coordinators will help you decide if you want your ceremony in a flower-bedecked arbor, a lakefront pavilion or a chalet with wrap-around balcony. And will your reception be in a quintessential "barn" with rough-hewn beams and pine flooring or in a marquee tent with chandeliers? They can also help you tailor your custom reception and rehearsal dinner menu and choose from a vast array of activities, from spas to golf, for your wedding party.
1 Clubhouse Road Fairlee, VT, 05045 Phone: 802-333-4311 Toll-Free: 800-423-1211
Invite Vermont's Outdoor Beauty to Your Wedding Celebration
An outdoor wedding in central Vermont? If there's a more beautiful or memorable way to begin your marriage, no one has found it yet. Lake Morey Resort, on the shore of a sparkling Vermont lake and surrounded by beautiful mountains is the perfect setting for the outdoor wedding of your dreams. With a ceremony on the lake front or one of the garden locations and a reception in one of the lake front function rooms, the natural beauty of Vermont is never far from view. Before or after, invite guests to dive into outdoor activities from golf and boating to sledding or snowshoeing.
Fourteen The Green Woodstock, VT, 05091 Phone: 802-457-1100 Toll-Free: 800-448-7900
An outdoor wedding with the Woodstock Inn touches
Planning a wedding in Vermont already assumes the natural beauty of the Green Mountain State is yours. An outdoor wedding at this celebrated resort is a country wedding in paradise. Woodstock is one of the most beautiful small towns in America and the Woodstock Inn, one of Vermont's most idyllic wedding settings. Choose from venues hosting 20-300 including unique outdoor facilities and tented options. There are manicured lawns, fragrant gardens and terraces, and an historic and beautifully appointed working farm. The sprawling estate grounds are the perfect romantic destination anytime of year with seasonal colors, crisp mountain air, and majestic views to create the perfect outdoor wedding bouquet. Touches include carefully crafted cuisine, luxurious accommodations, and special bridal packages.
Junction of Routes 103 and 131 Proctorsville, VT, 05149 Phone: 802-226-7361 Toll-Free: 888-764-6836
Mansion a dream backdrop for romantic outdoor weddings
Who wouldn't want to get married outside a mansion? At Castle Hill Resort and Spa, tucked amid breathtaking mountain scenery, wedding couples get to experience that all year long. Listed on the National Register of Historic Places, the boutique hotel resort offers stately lawns and charming garden-hemmed paths to walk down to exchange "I do's." Receptions, coordinated by an expert catering and events team, can be held inside a flowing white tent where chandeliers sparkle and glasses glitter. The resort's chef will work to design a menu that will wow your guests, whether there are 10 of them or 250. And, perhaps most important: You will be the only wedding couple on your big day, with exclusive use of the mansion and gardens.
4800 Basin Harbor Road Vergennes, VT, 05491 Phone: 802-475-2311 Toll-Free: 800-622-4000
Gorgeous outdoor locations to suit every wedding couple's tastes
To say the Basin Harbor resort celebrates the great outdoors is no exaggeration. With the majestic Adirondack Mountains and Lake Champlain as a backdrop, your wedding celebration will be beyond picturesque. The resort's wedding staff will handle every detail, from pre-wedding outings (golf, kayaking, lawn games or a relaxing spa afternoon) to ceremonies and receptions held in a garden, on a boat or on a dock jutting out into the lake. Walk down a white-marble aisle to say "I do" on a lakefront lawn or stroll through a blanket of flowers to exchange vows in a cottage garden, then dance by the harbor, the pool or a lakeside bonfire that night. Have breakfast the next morning while watching the harbor come alive.