Rainy day activities in Vermont from museums to shopping are as fun as those outdoors
You may find yourself indoors during a Vermont vacation because of rainy weather, but you are not "stuck" there, but any stretch of the imagination. Imagination, in fact, is a highly prized Vermont resource, and it is used to create fascinating science and nature and art museums all around the state. Other indoor fun includes great shopping for Vermont products you cannot find anywhere else, interesting dining, and lots of small live music and performance opportunities. Explore the
family vacation options
.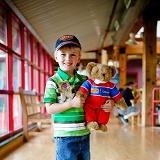 6655 Shelburne Road Shelburne, VT, 05482 Phone: 802-985-3001 Toll-Free: 800-829-2327
Rainy days and Bears are the perfect combination
There's nothing better than curling up with your favorite teddy bear on a rainy day. Come to the beautiful town of Shelburne, VT and snuggle with the adorable faces, soft fur and exceptional personalities of Vermont Teddy Bears as they come to life in the enchanting Teddy Bear factory. Meet Mr. Ted E. Bear, then take a 30-minute tour with a knowledgeable Bear Ambassador who will walk you through the sewing, stitching and stuffing of each handmade bear. You'll also see how the Bear designers create new outfits and meet Nancy, the Bear Doctor. When you finish your tour, visit the Bear Store where you can choose your handmade Bears or even make one of your own to take home.