Vermont fall foliage in 2017 blazes with yellow sugar maples along scenic byways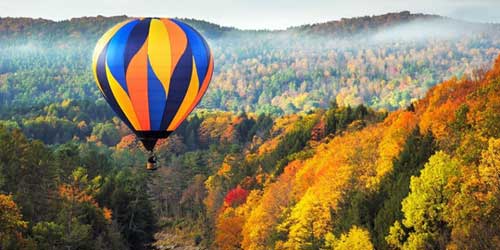 Beautiful Fall Foliage in Vermont
equals. Much of the brilliant red, orange, and gold color is from native sugar maples, which are abundant in Vermont (the flip side of fall foliage is the sugaring season in late winter, when maple sap begins to flow). Plan ahead to see fall foliage in Vermont, because people from around the world flock here. Best option: reserve lodgings in a mountain resort or sweet inn for a romantic getaway and stay awhile.
Getting Ready
See useful information about when to visit, where to stay, how to find color, and what to wear and pack
HERE.
More Resources:
Where to Drive
Find directions and tips for great views and attractions for at the drive tours described below.
Southern Region
Manchester to Bennington to Williamstown MA drive -- 50 miles + 24 miles into MA
Nearby Points of Interest:
♦ Two wonderful shopping venues: Manchester Designer Outlets and the Northshire Bookstore, are in Manchester. The outlets have all the brand names you love; the bookstore is welcoming and the staff members are devoted readers.
♦ Hildene, the Lincoln Family Home in Manchester. Beautiful home and grounds built by Abraham Lincoln's son, a 19th-century railroad executive. Check website for visiting hours.
♦ Robert Frost Stone House, Route 7A, South Shaftsbury. Visit the poet who taught us about mending walls. Check website for visiting hours.
♦ Bennington Battle Monument in Old Bennington. Climb this historic obelisk for great views and photos.
Side Trips:
♦ The Clark Art Institute in Williamstown, MA. Simply the best in art museums, in New England or anywhere. Gorgeous grounds and lots of public entertainments.
♦ Somerset Reservoir and Somerset Reservoir Trail near Wilmington. This is a very secluded lake. There are no shops, or ranger stations or private residences around. People use this lake for kayaking and canoeing.
Dining:
♦ The Perfect Wife on Depot Street in Manchester. Fancy dining downstairs; more-casual tavern dining upstairs in The Other Woman. This is top-shelf Vermont cooking, meaning locally source ingredients, unique combinations, and nearly prayerful attitude toward food.
♦ Blue Benn Diner on North Street in Bennington. Love diners? We do, too. Old-school diner with easy access to blueberry pancakes with local maple syrup.
♦ For an upscale and elegant meal after your day's explorations – and the perfect tone, if you have been strolling through The Clark -- consider dining at Messe Bistro + Bar in Williamstown.
♦ Honora Winery & Vinyard on Route 112 in Jacksonville. This side trip 12 miles southeast of Searsbury takes you to an in-town tasting room for Honora Vineyard wines. Outdoor tasting near a pond, pines, heron sightings.
♦ This is another digression, this time toward the town of West Dover, for a meal at the The West Dover Inn and 1846 Tavern & Restaurant. The name conveys the atmosphere: informal and down-to-Earth. Solid wines and hearty food.
---
Brattleboro to Whitingham through Mount Snow loop -- 100 miles
Nearby Points of Interest:
♦ Brattleboro Museum & Art Center in Brattleboro. Art is presented in an old train station, with the old ticket windows still intact, windows overlooking the tracks, and marble steps worn by generations of travelers.
♦ Newfane Common. Get out of the car and take a stroll through this classic Vermont town green.
♦ Scenic chairlift rides at Mount Snow -- Take a chair life ride to the summit of Mount Snow. Enjoy the beautiful surrounding views with highlights like Somerset Reservoir and Mount Monadnock. If a mealtime is near, grab lunch and a craft beer at The Bullwheel.
♦ Adams Family Farm in Wilmington. This is a working farm that welcomes visitors. The petting farm and farm store are open year-round, daily except Mondays.
♦ Molly Stark State Park in Wilmington. At this park hiking trails lead to the Mount Olga fire tower, for magnificent mountain views. Trail guide.
Dining and Shopping:
♦ Chelsea Royal Diner in Brattleboro. Fill your personal fuel tank at the start or end of your drive at this vintage 1938 diner. The Royal Diner's cuisine is high-end home style, with daily Blue Plate Specials, generous portions, and easy pricing. Take-out is available for every item.
♦ Saxtons River Distillery in Brattleboro. Maple liqueur? We're in Vermont, aren't we? Just off I-91, Saxtons River Distillery invites you to see how handcrafted spirits are made and to take home some samples of these unique liquors.
♦ Dot's Restaurant in Wilmington is nothing less than "a national treasure," according to no one less than Gourmet magazine. Patronized by local people from near and distant towns. Solid American food.
♦ Readsboro Inn in Readsboro. Very good food. Good for the groaning farmers breakfast. Brace yourself for excellent pizza, sweet potato fries and the catfish –yes, catfish – special.
♦ Town Hill Pottery in Whitingham, with the studios of Aysha Peltz and Todd Wahlstrom. Peltz's pots are porcelain, evoking natural forms and architecture. Wahlstrom's pots are dark stoneware clay or white clay and have richly patterned surfaces.
♦ J'ville Craft Brewery in Jacksonville. Come in for a small-batch craft brew, a five-cheese grilled cheese sandwich, and genuine hospitality.
---
Central Region
Lakes Bomoseen and St. Catherine Loop -- 55 miles
Nearby Points of Interest:
♦
Bomoseen State Park
in
Castleton
. Lovely lakeside park in the state's slate-producing region. Notice quarry holes and slate buildings.
♦
Lake St. Catherine State Park
in
Poultney
. Once a children's summer camp and farmland, this popular park has tent and lean-to sites, grassy open areas, woods, and a lovely lake.
Side Trips:
♦Vermont Marble Museum and Gift Shop in Proctor. Learn the history of this classic stone, and how Vermont quarrymen and masons turned in into an industry and art form.
♦ Wilson Castle in Proctor. Castle and estate are a blend of European architectural styles and home to five generations of the Wilson family. Public tours are offered.
Dining:
♦ Birdseye Diner in Castleton is a 1940's Silk City Dining Car manufactured in Patterson, NJ. Today, the Birdseye chow is a staple of the community. Highlights are jumpin' pepper jack flash, eggs Benedict, buffalo wings, much more.
♦ Montcalm Vineyards in Castleton. This vineyard produces estate grown wines. Call ahead before visiting: 802-265-4465.
♦ Mendon Mountain Orchards in Rutland. This family-owned orchard welcomes you for pick-your-own apple harvesting … and there's the bakery too. Open from 7 a.m. to 7 p.m.
♦ Vermont Truffle Company in Rutland. Chocolate truffles are made with natural, local ingredients. Beautiful, unique and delicious. Open daily except Sundays and Mondays.
---
Upper Connecticut River Valley Loop -- 115 miles
Nearby Points of Interest:
♦ Billings Farm and Museum, Route 12 and River Road, Woodstock. Picturesque working farm and museum re-creates the culture and folkways of Vermont farming before the machine age. Fun for kids.
♦ Simon Pearce Glass, 109 Park Road, Windsor. This world-famous maker of glass artworks and functional glassware welcomes visitors for shopping and to view glassblowing. Call ahead for demonstration times.
♦ Plymouth Cheese Company, 106 Messer Hill Road, Plymouth. Open daily for self-guided tours, historic museum and factory gift shop with informational cheese tastings and local VT made products. ♦ Quechee Gorge and Quechee State Park, 764 Dewey Mills Road, Quechee. The focal point of this stop is Vermont's deepest gorge, sometimes called the Grand Canyon of the East. Visitors can look down at the Ottauquechee River, 165 feet below, from Route 4.
♦ Killington Ski Area in Killington. Ski areas don't limit their activities to the snow seasons. Stop at Killington for great vistas, dining on the mountains and fall events like the Killington Brewfest and the Killington Oktoberfest. Check dates in advance.
Dining and Shopping:
♦ Harpoon Riverbend Taps and Beer Garden in Windsor. Taste a full selection of Harpoon beers straight from the brewery and take a guided tour of the brewery Fridays, Saturdays, and Sundays.
♦ Windsor Station Restaurant and Barroom in Windsor. Located in a historic train station, this eatery craft beer, farm-to-table Vermont food. It's part of the Vermont Fresh Network, promoting local foods.
♦ Cabot Quechee Store in Quechee Gorge Village, Quechee. Browse, taste and buy fine Vermont cheeses in this store on the state's Cheese Trail. Bonus: the store is in the Quechee Gorge Village, with lots of fun vacation shopping at Whisper Hill Body & Home, Deirdre Donnelly Jewelry Art, Vermont Spirits Distilling Co., Train and Toy Museum and many other interesting businesses.
---
West-Central Mountains & the Appalachian Gap Loop -- 100 miles
Nearby Points of Interest:
♦ Sheldon Museum, Middlebury (802-388-2117). This museum serves up the memory of Addison County history and culture through tours, exhibits, and programs that enrich the understanding of Vermont's past.
♦ Danforth Pewter's Workshop and Store, Middlebury (800-222-3142). This pewter maker offer a a gallery of one-of-a-kind pieces and viewing windows into the workshop. Beautiful and very New England-y gifts.
♦ Robert Frost Interpretive Trail, Ripton. This easy, one-mile trail commemorates Robert Frost's work; several of his poems are mounted along the trail in the woods and fields.
♦ Texas Falls, Hancock. East one-mile trail meanders through the forest along Texas Brook toward the Texas Falls picnic grounds.
---
Northern Region
Northern Mountains and Lake Champlain Islands Loop -- 165 miles
Nearby Points of Interest:
♦ St. Anne's Shrine, Isle La Motte (802-928-3362)
♦ Sand Bar Wildlife Refuge, Milton (802-893-2825)
♦ Missisquoi Wildlife Refuge, Swanton (802-868-4781)
♦ Carman Brook Farm Maple and Dairy, Swanton (888-846-2753)


---
Northeast Kingdom Loop -- 150 miles
Nearby Points of Interest:
St. Johnsbury Athenaeum
, 1171 Main Street, St. Johnsbury (802-748-8291)
Fairbanks Museum
, 1302 Main Street, St. Johnsbury (802-748-2372)
Maple Grove Maple Museum
, 1052 Portland Street, St. Johnsbury (802-748-5141)
Jay Peak Tramway
, Jay Peak, 4850 VT Route 242, Jay (802-988 2611)
Maidstone State Park
, Route 1, Guildhall (802-676-3930)
Stowe and Northern Mountains Loop -- 60 miles
This drive starts and ends at Stowe and its world-famous ski mountain, where, in the fall, you can take a gondola sky ride and see the fall foliage from above as you warm up the seat for wintertime skiers coming up next. Also near Stowe are two waterfalls, where adventurous people may hike or take photos or have a picnic. The drive also passes one of the state's parks, with a beautiful mountain lake. Prepare for classic images of Vermont's Green Mountains.

Nearby by Points of Interest:
Lake Elmore State Park, 856 VT Route 12, Elmore (802-888-2982)
Moss Glen Falls and Bingham Falls, Stowe
Gondola skyride, Stowe Ski Resort, 5781 Mountain Road, Stowe (802-253-3000)

* Our thanks to the Vermont Department of Tourism and Marketing.