Walking or hiking Vermont trails and mountains makes a great vacation
You will find many wonderful walks and hikes for all abilities in Vermont's Green Mountains, Lake Champlain Islands, and throughout the state's towns. Browse the listings below for the right walk for you, your family, and children. Walking is a romantic getaway, too.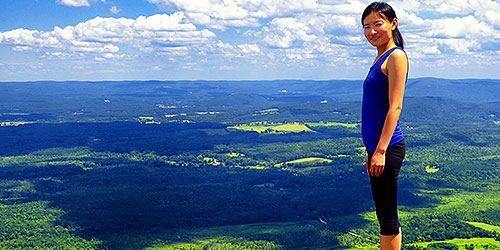 Follow these links for :
Campground Information
-
State & Local Parks
-
Beach Areas
---
Resources:
The 272-mile Long Trail was built in 1910 by the Green Mountain Club. The Trail has sections for beginner, average, and expert hikers. Trails are rated as easy, moderate, and difficult, and by other factors. The Long Trail follows the Green Mountains and crosses Stratton Mountain, Mount Mansfield, Jay Peak, and Camels Hump, with a side trail into the Northeast Kingdom. It coincides with the Appalachian Trail for 100 miles. The Green Mountain Club operates a visitor center on Route 100 in Waterbury Center, providing information, merchandise, access to the Short Trail, a picnic area, and toilets. Please carry in and carry out all belongings. 802-244-7037.
The Cross Vermont Trail will be a 90-mile path connecting towns from Lake Champlain to the Connecticut River. Thirty miles of the trail are open to the public. Maps and guides to the trail are posted online. Existing parts of the trail go near Wells River, Newbury, Montpelier, Middlesex, Berlin, Waterbury, Duxbury, Williston, and Burlington. 802-498-0079
Preparing to Walk:
Getting Ready:
Always take a map and a compass.
Mountain weather changes quickly! Check the weather forecast. If a storm is coming, get off the summit.
Weather at the peaks is colder, windier, and wetter. Dress with a layer close to your body for wicking sweat from your skin, a layer for warmth, and a top layer like Gore-Tex to block wind.
Wear sturdy hiking boots and good socks.
Take more liquid than you think you'll need. Also, power bars, string cheese, bananas, raisins, nuts.
Take a first-aid kit, a flashlight, a pocketknife, and a whistle.
On the Trail:
Treat all water by boiling, filtering, or chemically treating.
Carry out all of your trash (including biodegradable items like orange peels).
Use the privy if the site has one. Otherwise, dispose of waste at least 75 paces away from water.
Give wild animals plenty of room.
Build a fire only in an established fire pit.
If you're staying overnight, use the lodges or designated tenting sites.