Luxury lodging at Vermont hotels, resorts, inns makes vacation a pleasure year-round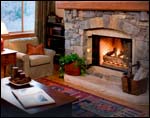 Through all the seasons, Vermont is a beautiful state that celebrates and honors its natural surroundings. When planning a vacation trip or getaway at a hotel, resort, or luxury lodging, be ready for Alpine-or chalet-like architecture that fits quietly into the mountains. Luxury lodging in Vermont is idea for a summer vacation with family and kids looking for outdoor fun like swimmer, fishing, boating, hiking, and mountain adventure. Plush surroundings and amenities like fireplaces and balconies overlooking the mountains also make it luxury resorts wonderful for a romantic getaway.
In winter, Vermont turns white and frosty, and lodgings will place you nearby skis areas for skiing, snowboarding, skating, snowshoeing and even horse-drawn sleigh rides. Talented chefs do their best work in transforming local foods into creative gourmet cuisine. Spas and fireplaces will keep indoor-loving guests cozy all day. Lodgings shown here have won four or five diamonds (or stars) from AAA or Forbes Travel Guide. These awards assure the best standards and quality in services and amenities.
Fourteen The Green Woodstock, VT, 05091 Phone: 802-457-1100 Toll-Free: 800-448-7900
Green Mountain luxury in a timeless setting
You're wrapped in luxury from the moment you arrive until you depart this enchanting New England village. Here, the authentic resort experience is enhanced by its timeless elegance. Your smoke free room has handmade furnishings by gifted local artisans, plush terry robes and Spa brand bathroom amenities, high-speed internet, flat-screen TV, Keurig K-Cup coffeemaker with complimentary Green Mountain coffee and tea. You're in covered bridge country and the picturesque New England countryside inspires. The Main Street offers restaurants, charming boutiques and authentic flavor. Hike, play golf, take fly fishing lessons, cross country ski or snowshoe. Enjoy the Woodstock Athletic Club. Dine on farm fresh cuisine in creative preparations in an award winning AAA four diamond restaurant. And so much more.