Resort, hotels, country inns roll out a beautiful welcome for wedding celebrations
Vermont: small, creative, innovative. A place of beautiful mountains, lakes, and towns. What could be better than a Vermont wedding? Even with that much -- a Vermont location -- decided, couples must make choices. A resort aside Lake Champlain or lodge in the mountains of Stowe operated by the famous von Trapp family? A dressy event at the Essex Resort and Spa, known far and wide of his culinary arts, or an intimate affair the Bennington Museum or Manchester Center's Perfect Wife restaurant? Maybe, in a state that loves its rural heritage, a wedding in a converted barn with creative local foods.
Experts in wedding planning can help you with all the details at sophisticated resorts like Castle Hill or the Mountain Top Inn or Stowe Mountain Lodge. Historically, Vermont is welcoming to gay and lesbian couples and their families and friends. Narrow down your ideas and read the listings below, then take the first and biggest step -- not counting the engagement -- to secure a perfect wedding venue for you.
1 Clubhouse Road Fairlee, VT, 05045 Phone: 802-333-4311 Toll-Free: 800-423-1211
Gather together at one of the finest wedding venues in New England
Nestled in the green Vermont hills above the Connecticut River, Lake Morey Resort provides the perfect romantic setting any time of the year. It is the ideal location for your wedding reception or special function. The function rooms can accommodate from 60 to 600 guests. Along with offering some of the finest function space in New England, Lake Morey Resort provides clients with a personal function coordinator, full service set-up department and a professional wait and bar staff. The resort has four beautiful function rooms, and three have direct access to the lake. For outdoor venues, the resort offers the Lakefront, Terrace Patio, Mapleview Gardens, Hemlock Gardens and the Front Lawn. Contact the Group Sales Department for a complimentary Wedding/Function Package.
1496 West Hill Road Warren, VT, 05674 Phone: 802-496-7162
Start the rest of your life at a classic Green Mountain B&B
Hold the greatest celebration of your life at this 150 year old B&B in the Green mountains amidst scenic splendor and fresh mountain air. Whether a first or second wedding with 2-50 guests in attendance, you'll find simple luxury and hospitality to fit your every need. Plan a memorable getaway elopement or a small intimate affair any day of the week. Packages include a justice of the peace, champagne, wedding cakes, photography, seasonal flowers, and a reception dinner. Your room offers a full bathroom, Jacuzzi tub or steam shower, memory foam beds, fireplace and decorative furnishings. Each morning a sumptuous breakfast is served. The on-site meadows, ponds, and gardens will inspire the lover in you to savor every moment.
1746 Mountain Road Stowe, VT, 05672 Phone: 802-253-7355 Toll-Free: 800-253-2232
In Vermont mountains, resort a picturesque site for weddings of all sizes
Tucked away amid the awe-inspiring mountains of Vermont, the Stoweflake resort offers couples a variety of unique wedding venues. There's the Pinnacle Ballroom with its 12-foot ceiling and mountain views, suitable for up to 400 people. There's the Atrium, where soaring glass walls overlook lush lawns and gardens. Outside, the courtyard puts you right in the middle of the mountains, and fountains – and guests can dance all night under a sparkling white tent while sampling carving and caviar stations. Wedding packages (some that feature hot-air balloon rides) include luxury accommodations for the couple's wedding night – and for their first anniversary. Wedding planners can help with in-resort details and with external services, from cakes to carriage and sleigh rides.
3967 Main Street Manchester, VT, 05254 Phone: 802-362-1793 Toll-Free: 800-273-1793
Let Vermont's idyllic surroundings add more romance to your wedding
Idyllic country surroundings make The Inn at Manchester the perfect spot for wedding celebrations. Our newly-opened Celebration Barn offers 2,500 square feet of floor space and room for up to 150 guests. The remodeled classic carriage house feels as though it might have been here for centuries, but you'll find all the modern amenities you'll need to make the day special. A covered terrace and a firepit allow you to extend the party outdoors. The space features a commercial kitchen, fully-appointed restrooms, full climate control, and handicap accessibility. Spend your honeymoon with us, too.Our B&B offers 21 guest rooms, including suites. Each features air conditioning, a flat-screen TV, a private bath with massage shower head, and luxurious linens, and in some rooms, a fireplace.
485 Hotel Road Brownsville, VT, 05037 Phone: 802-484-7711 Toll-Free: 866-591-0448
A Vermont Wedding to Remember
Have a wedding to remember at Holiday Inn Club Vacations® Mount Ascutney Resort, located in charming Brownsville, Vermont. The natural beauty of Mount Ascutney provides a picturesque mountain setting that is perfect for your ceremony. You and your guests can then continue the celebration in a beautifully decorated ballroom with delicious Vermont cuisine prepared exclusively by The Maple Kitchen, our on-site restaurant. Plus, our spacious one-, two- and three-bedroom villas make it easy to prep and be pampered for your big day. And we offer exciting amenities including indoor/outdoor pools, basketball courts, a movie theater, a game room and a full-service gym that can turn your celebration into a fun-filled vacation for you and your guests. Whether a big event, something small and intimate or somewhere in between, we have packages to fit every budget. Our team is ready to create your memorable wedding, so contact us today.
195 Mountain Top Road Chittenden, VT, 05737 Phone: 802-483-2311
Go to the Mountain Top and vow forever yours
The destination wedding is ever more popular in New England with so much to offer. Here, amidst the Green Mountains and overlooking a sparkling lake, you'll find a scenic and delicious spot for your classic Vermont wedding. You'll enjoy the attentive staff's seamless coordination from menu selection, room arrangements, centerpieces, linens to locally sourcing photography, flowers, cakes and music. Whether an intimate gathering for two, or a celebration for many, the inn's indoor ceremonies can accommodate 250 in the new barn, 135 in the lobby, and 100 in the south lobby. An additional 50 people can be hosted in the adjoining tavern. Set on 350 nature blessed acres, you'll be inspired by the rustic elegance of this classic mountain lodge with its magical Vermont backdrop any time of year.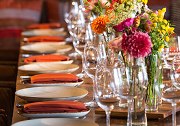 3835 Main Street Manchester Village, VT, 05254 Phone: 802-362-0147 Toll-Free: 877-699-3331
The Taconic Hotel is the northeast's new wedding destination
Just a three-hour drive from Boston, and only four hours from New York City, the newly-opened Taconic in Manchester Village, Vermont, could soon become on of the northeast's top wedding destinations. We're located at the base of Mount Equinox, and surrounded by the namesake Taconic and Green mountain ranges, which means you'll find spectacular views at every turn. Taconic features a 2,600-square-foot ballroom, as well as elegant outdoor venue perfect for weddings and other events. Our professional wedding planners and chefs will do their utmost to ensure that every moment, every forkful of food, every toast, is perfect. The hotel itself is designed to recall the grand resorts of old, with white clapboard and shingle architecture and a wrap-around porch with columns.
458 Hill Farm Road Sunderland, VT, 05250 Phone: 802-375-2269
Wedding Glamour Is Surrounded by Vermont Beauty
Your family and friends won't want to depart when you host a country wedding among Vermont's lakes and mountains at this restored historic property. Restoration of the two main houses (1830 and 1790) is warm and chic, with spacious views, beamed ceilings, wood stoves, lavish linens, custom bathrooms with warm tiles, quartzite and travertine detailing. The two main buildings with rooms and suites and the detached Farm House, housing up to eight people, offer variety to accommodate couples, singles, and groups. Before and after your wedding ceremony, guests can enjoy indoor and outdoor fun in all seasons at the Inn's game room, outdoor fire pit, walking trails, and pub. Nearby ski mountains, restaurants, and shopping are delightful.
Fourteen The Green Woodstock, VT, 05091 Phone: 802-457-1100 Toll-Free: 800-448-7900
A wedding with all the touches – and a little extra.
Every New England country wedding should be set like this celebrated resort: overlooking one of the prettiest small towns in America and easy to get to from anywhere in the region. It inspires the idyllic wedding - carefully crafted cuisine, state-of-the-art facilities, luxurious accommodations, and special bridal packages. Choose from venues hosting 20-300 including unique outdoor facilities and tented options, manicured lawns, gardens and terraces, ballrooms, an historic and beautifully appointed working farm, a ski lodge and even a log cabin. The sprawling estate grounds make for a perfect romantic destination. Right out the door is a covered bridge ideal for photos. Vermont's natural splendor will be burnished into your wedding memories forever.
703 US Route 5 South St. Johnsbury, VT, 05819 Phone: 802-748-1500 Toll-Free: 866-489-7902
Let the Vermont mountains provide your wedding decor
There may be wedding locations with equal beauty to Vermont's Northeast Kingdom, but no place on Earth can surpass it. Comfort Inn & Suites Near Burke Mountain will host your guests in elegance and comfort, surrounded by gorgeous views in all seasons of the year. The Inn offers an elegant function room, and its banquet room can accommodate up to 70 guests for an intimate reception. The hotel can help you and your family find several creative catering options that offer flexible pricing plans. Your wedding guests will enjoy discounted rooms and suites, complimentary breakfast and parking, and use of the Inn's upscale amenities, like its indoor heated pool, sauna, whirlpool, landscaped sun deck, fitness room, and video arcade. In Vermont, romance is in the air.
Junction of Routes 103 and 131 Proctorsville, VT, 05149 Phone: 802-226-7361 Toll-Free: 888-764-6836
A Castle all your own for your special wedding
Any celebration is made better in an idyllic setting at a romantic resort and spa. A perfect venue in a stunning Green Mountain paradise calls one and all to "celebrate here." This picturesque New England haven is in and near classic towns, quaint villages, covered bridges and cozy cafes just waiting for your visit. The stately mansion, landscaped grounds and Aveda Concept Spa will take the sting out of travel and welcomes guests to settle down and in. Luxurious individually decorated guest rooms offer great comfort, service and amenities along with the magnificent views. The outdoor gardens, a library, two formal dining rooms, and an outdoor tent for 250 paired with our special wedding coordinator provide all you need for any special gathering.
511 Mountain Road Stowe, VT, 05672 Phone: 802-253-4811 Toll-Free: 866-970-0786
Say your vows in a romantic woodland setting
At Golden Eagle Resort in Stowe, Vermont, event planners will ensure your big day is special. We offer charming facilities, comfortable accommodations, a romantic wooded setting and deluxe amenities. Our flexible venues offer inviting decor and dinner and dancing space for up to 75 guests. The resort's beautifully landscaped grounds provide a spacious area perfect for tent rentals for wedding receptions of 150 guests. Our talented team will help you with every detail, from event facilities to catering menus and block room reservations. Book your wedding group and enjoy a complimentary stay in our romantic bridal suite. Within walking distance to the shops and restaurants of nearby Stowe.
Ask about our Wedding Special - No room rental fee or site fee when 10 or more guest rooms are booked!
4800 Basin Harbor Road Vergennes, VT, 05491 Phone: 802-475-2311 Toll-Free: 800-622-4000
Warm atmosphere surrounds weddings at beautiful Vermont resort
It's the warm, friendly atmosphere that past wedding couples and their parents mention most often when praising the Basin Harbor. The 700-acre resort radiates tranquility, from pre-wedding massages at the Blue Chair Spa to sipping post-ceremony cocktails on a lakefront lawn while admiring a Vermont sunset. Ceremonies from elaborate affairs in the elegant Town Hall room to cozy gatherings in a cottage garden are planned to perfection by a dedicated staff. The resort atmosphere is so welcoming, many couples invite guests for the weekend (you can even rent the entire resort) so they can kick back in a kayak, get in some golf, enjoy a sumptuous brunch or just relax by Lake Champlain, with the Adirondacks in the distance.
92 Main Street Grafton, VT, 05146 Phone: 802-234-8718
Experience a perfect Vermont Wedding at historic Grafton Inn
Start your life together in a picturesque village at this historic Inn. Year round, choose from wedding scenarios to fit your guest list and budget. Receptions from elegant to rustic are set in a dining area filled with period antiques and original artwork. The Four Diamond restaurant and kitchen staff can create special lunches, rehearsal dinners and bountiful breakfasts and you can dance the night away in the Phelps Barn. Guests will find 44 rooms, suites, and private guest houses with private baths, air conditioning and sitting areas, or you can take the whole property block and make the Inn your personal hotel. Create a full itinerary for your guests or let them enjoy this beautiful area on their own.