Visit Vermont bed and breakfasts and B&B inns for a cozy vacation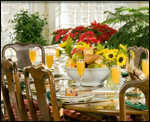 Vermont's bed and breakfasts and B&B inns mirror the natural pleasures of the Green Mountain State and are found in country settings, near world renowned ski areas and even in the homes of working farm families.
Many of Vermont's B&Bs are set in the heart of charming villages and towns like Stowe, Arlington, Bennington, and Manchester and near excellent dining, shopping, galleries, historic attractions and sports venues. Vermont B&Bs may be homes on the National Register of Historic Places, as well as other centuries-old, romantic and stylish houses. Breakfast is sumptuous, with a daily appearance, of course, by Vermont's very own maple syrup.
For your daytime sojourn away from your B&B you can ski, snowboard, hike, swim, take photographs or just take it easy. But you can also have a sweet time at Ben and Jerry's Ice Cream factory in Waterbury, sit by or sail on Lake Champlain in Burlington, or visit the vineyards (yes vineyards!) on the Champlain Islands. And don't forget to search Vermont's finely made crafts and food. Your stay at a Vermont bed and breakfast starts right here.
at Tyson, on Route 100, 2 Dublin Road Ludlow, VT, 05149 Phone: 802-228-8602 Toll-Free: 800-356-6844
Historic Vermont B&B along a main stage coach line
This charming lodging in the central lakes district is one of only six authentic Vermont country inns functioning today that was originally built as an Inn and still operating year round. The original inn was rebuilt in 1840 as a Victorian summer hotel and features 23 rooms, some with private Jacuzzi and fireplace, a family suite, and 7 condos. Most rates include full breakfast. Relax in the hot tub or outdoor pool, play tennis, paddle your own canoe or rowboat on Echo Lake, fish on the Black River or simply set a spell on the front porch with your favorite book or beverage. You're just 5 minutes from Okemo and there's skiing, sleigh rides, hiking, biking and horseback riding nearby.
3967 Main Street Manchester, VT, 05254 Phone: 802-362-1793 Toll-Free: 800-273-1793
The Inn at Manchester will make your Vermont trip memorable
Stay once at the Inn at Manchester, and you're sure to return. We're located on four acres of gardens, manicured lawns and towering pines. And we've got 21 comfortable rooms, including suites. All feature flat-screen TVs, air conditioning, massage shower heads, distinctive toiletries and full length mirrors. Some have fireplaces and offer views of the Taconic Mountains. An ample country breakfast is served in our inviting dining room, and complimentary hot and cold beverages are available 24 hours. Enjoy your favorite beers, wines, and mixed drinks in our fully-licensed pub. And there's so much to do in southern Vermont. Hiking, fishing, skiing and golf are popular activities. We've got a pool for use in warmer months. Manchester's restaurants, shops, and galleries are just a short walk.
511 Liberty Hill Road Rochester, VT, 05767 Phone: 802-767-3926
Special memories are made on a farm vacation!
Guests have been coming to our celebrated B&B for more than a quarter century, Cozy lodgings, common areas and rocking chairs to settle into and relax plus great home style cooking and hospitality make our 150-year old farm home one of the premier destinations in central Vermont. There are seven guest bedrooms and four shared baths and free WiFi throughout. Your room includes breakfast and dinner served with Vermont charm (and maple syrup) at the family table. Visit our barn, meet our dairy cows and kittens, swim or fish in the White River, hike or snowshoe in the woods whose trails start right at our front door. See why we've been called the "Best in New England" by Yankee Magazine and named Vermont "Innkeeper of the Year" for 2013-14!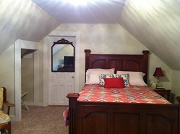 5 Pleasant Street Stowe, VT, 05672 Phone: 802-734-0661
Put Your Feet Up After a Day Outdoors
Hobble Inn, a bed-and-breakfast on aptly named Pleasant Street in the northern Vermont town of Stowe, hits a trifecta of good things for your vacation. First, you will feel the genuine hospitality of innkeeper Mary Skelton, who restored this family place with love and who opens it generously to visitors. Next, the B&B is in a quiet neighborhood, so you can rest with ease in its comfortable guest rooms, sunroom or yard, or, alternately, dive in to the many local attractions: skiing, hiking, biking, fishing, zip lines, shopping, and more. Ms. Skelton sends you out for the day with a hearty breakfast to fuel you. Room choices include the whole home of four bedrooms and two bathrooms, sleeping 7 people, or two individual bedrooms. There's handicap accessible bathroom.
1496 West Hill Road Warren, VT, 05674 Phone: 802-496-7162
A comfortable bed, delicious breakfast and the Green Mountains at your door
Nine peaceful acres offer mountain views, meadows, ponds, and woods at this 150 year old B&B. Winter visitors can ski at Sugarbush or Mad River Glen or cross-country ski and snowshoe right out the front door. In summer, golf, hike, and explore the quaint villages of Warren and Waitsfield. Relax in the three large public rooms with fireplaces, a library with a pool table, and extensive gardens. Each room features a full bathroom with Jacuzzi tub or steam shower, beds with memory foam and fireplaces. A bountiful breakfast is served each morning and there's a wonderful wine cellar, a selection of local Vermont beers, and the taste of Scotland at the unique Quaich Single Malt Scotch bar. West Hill House B&B is a Green Hotel and offers complimentary charging for Tesla and other EVs for overnight guests.