VT Resorts and Parks Open to Cross Country (XC) Skiing & Snowshoeing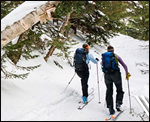 Cross-country skiing, also known as Nordic skiing or XC skiing, is gaining popularity. It is easier for people not enamored with the speed of downhill, and it can be done by all ages. Cross-country skiing can be done on groomed or ungroomed (back country) trails. Almost all cross-country trails and touring centers also welcome snowshoeing and make snowshoeing equipment available if rentals are offered. Book a room at a
bed and breakfast
or
mountain resort
for a longer adventure.
Many cross-country [Nordic] skiing centers offer trails, snowmaking, rentals, lessons, racing, and special events. A great resource for cross country skiing in Vermont is the
Catamount Trail Association
, which takes care of the Catamount Trail, on which people can ski the length of Vermont.
Catamount Family Outdoor Center
592 Governor Chittenden Road Williston, VT, 05495 Phone: 802-879-6001
Cross-country and snowshoeing trails; equipment rentals; snowshoe tours
Thirty-five miles of trails travel through a family farm dating back six generations to Vermont's first governor. Equipment rentals. Moonlight snowshoe tours with separate tour groups for various ability levels are offered in January February and March.
Prospect Mountain Nordic Ski Center
Route 9 Woodford, VT, 05201 Phone: 802-442-2575
30 km of trails; Open daily from 9 a.m.-5 p.m. if there is snow; snowshoeing; rentals
30 km of trails are groomed for both skate skiing and track skiing, for levels of ability from beginner to advanced. Most trails have tracks set each side of a wide center skating lane. Also, snowshoeing and track skiing trails are available. Racing.
The base lodge has a large fireplace, woodstove; meal service for all tastes at reasonable prices. Trail fees are $17 to $22 depending on age; Equipment rentals are $12-$20, including adult and child sizes, pulka sleds and snow shoes.
Stowe Mountain Resort Cross Country Ski Center
5781 Mountain Road Stowe, VT, 05672 Phone: 802-253-3688
45 km of groomed and 30 km of backcountry trails; snowshoeing; rentals
Variety of trails for all levels of ability, including the a series of short gradual climbs to Bruce Trail; steep climbs along Peavy Trail to Bear Run junction; and some very advanced trials via Double Bit.
Trail fees are full day or half day, $11 to $25 depending on age. Season passes to cross country trails are available and include discounts on Stowe Mountain retail shops, equipment, and services. Lessons, $42 to $138. Rentals of equipment for all ages down to 3 years old. Pulka sleds available for rent.
Brattleboro Outing Club
Upper Dummerston Rd. Brattleboro, VT, 05302 Phone: 802-257-5292
The Ski Hut is the hub of cross country skiing in the Brattleboro community. The Ski Hut offers 30 km of trails.
Nordic Trail System of the Kingdom Trails Association
Kingdom Trails Association East Burke, VT, 05832 Phone: 802-626-0737
60 kilometers of groomed skating and tracked classic Nordic trails; open December to April
Two separate areas provide Nordic (cross-country) ski trails. One is Dashney Farm ( formerly Burke XC), where 50 kilometers of skating and classic trails that wind through field and forest. Plenty of trails for all skill levels. The Nordic Welcome Center at the end of Dashney Road is the information and pass purchase center. (Dashney Farm is also the location for the 5th Annual Burke Sled Dog Dash in March.) Located 1.3 miles up the Mountain Road from Route 114. Phone: 802-626-6005
Darling Hill overlooks Willoughby Gap. You will ski past historic barns, inns, and Victorian houses. Trail difficulty rates from beginner to intermediate. Park at the Children's Theater on Darling Hill Road and buy passes and get maps at a self pay kiosk.
Many family-oriented activities including hosting the Kingdom Nordic Club's Bill Koch Instructional League. Annual membership is $75 for an individual and $150 for a family. Day passes are $7 for youth age 8-15 and $15 for adults age 16-69.
Blueberry Lake
424 Robinson Road Warren, VT, 05674 Phone: 802-496-6687
30 km of trails for XC skiing and snowshoeing; rentals and lessons; pulk sleds for children; dogs welcome
31 km of groomed trails for classic track skiing and skate skiing. Open daily 9 a.m. to 4:30 p.m. Ski equipment and snowshoe rentals and lessons; phone ahead to schedule lessons. Trails are graded for average skiers. Daily pass and rentals, $12.
Viking Nordic Center
615 Little Pond Rd Londonderry, VT, 05148 Phone: 802-824-3933
35 kilometers of groomed trails; snowshoeing; equipment rentals and lessons; child care; night skiing
35 km of trails pass through woods and meadows; trails are available for the novice to the expert. Ski shop offers Nordic skiing and snowshoeing equipment as well as pulk sleds for young kids, Lessons by Professional Ski Instructors of America. Trailside cabin and warming hut. Night skiing.
Child care on the snow. Four-bedroom guest house near the trail; club house for rent. Group packages, rates, and rentals,
Bolton Valley Nordic and Backcountry Skiing
4302 Bolton Valley Access Road Bolton Valley, VT, 05477 Phone: 802-434-6876
100 kilometers of cross-country ski trails; including groomed and back country; rentals; lessons
The Nordic Center offers guided tours, lessons, and rental equipment. The 100-kilometer Nordic trail system includes 26 kilometers to groomed trails and backcountry trails for skiing and snowshoeing
Full-day and half-day tickets are $6 to $17
Blueberry Hill Inn Ski & Snowshoe Center
Goshen - Ripton Road Goshen, VT, 05733 Phone: 802-247-6735
50 km of back country for XC skiing and snowshoeing; ski and showshoe rentals; warm lodge for rest; open daily
This inn has 50 kilometers of back country -- that is, ungroomed -- trails for cross-country [Nordic] skiing and snowshoeing. Trails are easy to follow. The inn's ski center is open every day, with longer hours on weekends. No trail fees, but a donation of $5 to the center is suggested. Center offers a warm place to gather, and soup and other foods. Ski and snowshoe rentals are adults, $15; children, $8
Smugglers' Notch Nordic Ski & Snowshoe Adventure Center
4323 VT Route 108 South Smugglers' Notch, VT, 05464 Phone: 802-644-1173
30 km of cross-country trails and 24 km of snowshoe terrain; ice skating
30 kilometers of cross-country trails offer fun and challenge for for novices to expert; another 24 kilometers are reserved only for snowshoeing. Group and private lessons may be done by skiers of all levels. Join a tour for extra adventure. Rental for skiing and snowshoeing and also for ice skating. Access to Nordic trails is free with a lift ticket for Smugglers' Notch downhill skiing.
Center has a cozy lodge and woodstove. Daily trail fees, $8-$14 depending on age; lessons are $45 to $60; rentals are $5 to $19.
Okemo Valley Nordic Center
77 Okemo Ridge Road Ludlow, VT, 05149 Phone: 802-228-1396
22 km of trails for cross-country skiing and 13 km for snowshoeing; lessons, rentals, demos
22 km of trails are situated on the Okemo Valley Golf Club facility on Fox Lane. The terrain is meadows and rolling hills and trails are groomed for classic track skiing and skate skiing. A full 13 km of trails is reserved for snowshoeing. Trails offer options for skiers of all levels, from beginner to advanced. Lessons and rentals and demonstrations.
Open daily 9 a.m.- 4 p.m.; afternoon rates begin at 12:30 p.m. Nordic Shop sell equipment and clothing. Food is sold, Center also has conference rooms, lockers and showers, pro shop, waxing and repairs. Trail fees are $15 to $49 depending on skier age and length of ski time, from half-day to three days.
Hildene Ski Touring Center
1005 Hildene Rd Manchester, VT, 05254 Phone: 802-362-1788
8 km of trails for cross-country and snowshoeing on the grounds of the Lincoln family home
Hildene is the house home built in 1905 by the son of President Abraham Lincoln. This historic house is open to visitors year-round. In winter, guests may use the 8 km of cross-country skiing trails, which have varying levels of difficulty. The Ski Pavilion rents skiing and snowshoeing equipment for adults and children, and also lessons, by pre-arrangement. Nordic ski season is mid-December to mid-March, 9:30 a.m. to 4:30 p.m.
Admission is $5-$16, based on age, rentals are $15; lessons are private or group, $15-$30. A full package include admission, rentals, lessons.
Hazen's Notch Association
1423 Hazen's Notch Road Montgomery Center, VT, 05471 Phone: 802-326-4799
70 km of trails for Nordic skiing in tracks and for snowshoeing; forest and meadow settings
In a town noted for covered bridges Hazen's Notch has 70 km of groomed and marked trails passing through mixed maple, birch and evergreen forest and across gentle, open meadows. Thirty trails for all abilities provide loops of different lengths for classical cross-country skiing and or snowshoeing.
Craftsbury Outdoor Center
535 Lost Nation Rd Craftsbury Common, VT, 05827 Phone: 802-586-7767
135 km of trails for XC skiing and snowshoeing snow making; racing and events
This year-round outdoor sports center offers annual and one-day memberships for cross country skiing and snowshoeing along with skulling, sailing, and running. Ski teams are active, and there is a heavy schedule of racing. Probably not the place for small children and timid people new to cross-country skiing, although family rates are posted and children are welcome.
Membership includes events and fitness activities like CrossFit sessions. A day lodge offers a rest stop with comforts along with sales and rentals of equipment. Charley's Cabin at Hosmer Point is a warming hut on the weekends. Lodging in cabins, with meals included, is offered.
Day membership is $5 to $10. Membership holders may ski the nearby Highland Lodge trails. Seasonal memberships are $25 to $100. Lessons are $30 to $60.
1 Mill Street, Suite 350 Burlington, VT Phone: 802-864-5794
Public-access cross country ski and showshoe trail extends full north-south length of Vermont
The Catamount Trail is 300 miles long, allowing skiers and snowshoers to travel the entire north-south length of Vermont from Massachusetts to Canada. It was conceived in 1984 and fully linked by 2008, and it is supported and maintained the the Catamount Trails Association along with many volunteers.
The Trail is organized by sections, and the association's website gives extensive maps and directions about getting onto the trail. The trail can be enjoyed for a trip of a few hours, a full day or overnight, or a multiple-day trip. The Catamount Trail Association offers short or long tours on skis or snowshoes. There are many bed and breakfasts and inns along the trail, and there is some winter camping. Many ski clubs are connected to the trail and the association holds lots of special events.
Trail section maps
Wild Wings Ski Touring Center
North Road Peru, VT, 05152 Phone: 802-824-6793
28 km of classic Nordic skiing terrain; small attraction & good for families
Classic, track skiing and a nice small operation for families and kids. Trails roam through woods and along brooks. This location is a snow pocket, meaning there may be snow here even when other locations are bare. Regular grooming. No snowshoeing
Rikert Nordic Center
Route 125 Middlebury, VT, 05753 Phone: 802-443-2744
Equipment rentals and lessons for XC skiing and snowshoeing; snow making
Carroll & Jane Rikert Nordic Center is owned and operated by Middlebury College and is open to the public. IT is a full-service cross-country skiing and showshoeing facility and also the home of the Middlebury College's cross country racing team. The center offers 42 kilometers of varied and scenic trails for cross-country skiers and snowshoers for all abilities. Snowmaking is done here. Lots of programs for families, parents, and small kids. Racing and other special events. Equipment rentals and lessons
Day tickets are $5 to $17, based on age; season passes are $160 (family) to $85; rentals are $16-$27, including rentals of pulk sleds (to pull a child behind an adult); lessons are $30-$45.
Grafton Ponds Outdoor Center
783 Townshend Road Grafton, VT, 05146 Phone: 802-843-2400
Groomed and backcountry trails; snowshoeing, snow making, snow tubing; lessons and rentals
This is a year-round outdoor recreation center. Winter offerings include Nordic (cross country) skiing, snowshoeing, and snow tubing hill in the winter. Snow making is done starting in mid-December. The 15 km groomed cross country trail network is supplements with snow making; there is an addition 15 kms of backcountry terrain. Snowshoeing is offered on 10 kms of trails, and the organization offers guided snowshoe tours. A biathlon course offers a tremendous workout. There is a 600-foot snow tubing run.

A base lodging offers rentals and lessons and repairs. Dogs are welcome on the property on Mondays and Thursdays. Half-day and full day trails passes range from $5 to $18. Season passes are sold. A midweek special offers a trail pass, rentals and a group lesson for $60. Lessons are $25 to $60.
Ole's Cross Country Center
Airport Road Warren, VT, 05674 Phone: 802-496-3430
30 miles of trails; snowshoeing; lessons and rentals
30 miles of groomed trails for every level of skier at this family-friendly area. Trail markers on the 11 trails are easy to use. Classic track skiing and skate-skiing are offered. Day lounge; heated indoor restrooms; rentals of equipment for adults and kids by the day of half-day; lessons. Youth ski league
Trails passes are sold by the day and half-day, $10 to $16 depending on age; rentals are $14 to $22; lessons are $20 to $45
Hermitage XC Center
21 Handle Road West Dover, VT, 05363 Phone: 802-464-3511
2 miles of trails based at Hermitage Inn for XC skiing and snowshoeing; ice skating
Hermitage Cross Country Center is actually based at the Hermitage Inn. Two miles of groomed cross country skiing and snowshoeing. People who are not lodging at the inn are welcome to use the Nordic ski facilities, but trail and equipment rental fees are charged. The inn also has ice skating.
Morse Farm Ski Center
1168 County Road Montpelier, VT, 05601 Phone: Toll-Free: 800-242-2740
15 miles of cross country (Nordic) classic and skate skiing trails; 2.5 miles of back country snowshoeing trails
Vermont's newest XC ski area just 3 miles from downtown Montpelier has 15 miles of XC trails and 2.5 miles of backcountry snowshoe trails traveling through woods, maple sugar groves, and open pastures. All trails offer suitable enjoyment for all skill levels. Family friendly.
Mountain Meadows XC Area
2363 U.S. 4 Killington, VT, 05751 Phone: 802-775-7077
57 km of trails; snow making; snowshoeing; rentals; nearby accommodations
Right in the middle of popular Killington, Mountain Meadows Center, supported by Base Camp Outfitters, has 57 km of cross-country [Nordic] skiing and snowshoeing and a base lodge for warmth and rest. This center is close to Kent Lake and the Catamount Trail (at Section 13), which allows people to ski the length of the state. (Parking is at the trailhead).
Lessons and rentals. Lodging at nearby Mountain Meadows Lodge on Thundering Brook Road.
Timber Creek Cross Country Ski Center
Route 100 North West Dover, VT, 05356 Phone: 802-464-0999
14 km of cross country and snow shoe trails; rentals; instruction
In the shadow of Mount Snow, Timber Creek offers a choice of lots of terrain for all abilities on 14 km of trails trails through forest, and even into hills and high ridges for advanced skiers. Snowshoeing is also available.
Day trail fees are $9 to $20 based on age and whether a half-day or full day is used. Also: lessons, rentals, and all-inclusive learn-to-ski packages that include trail fees, rentals, and instruction