Vermont hotels, inns, resorts offer family-friendly and kid-friendly stay
Vermont's hotels, motels, inns, and resorts strive to be family and kid friendly, welcoming parents and children with a relaxed atmosphere and, in some places, lots of planned activities for the kids. Some VT family friendly lodgings have kids� camps, with swimming, arts, field trips, and cookouts. Some offer day care, playgrounds, and kids� night out activities. And any vacation spot in Vermont is, of course, surrounded by world-class skiing, golf, hiking, biking, swimming, sightseeing, and just plain relaxing, for adults and children.
4800 Basin Harbor Road Vergennes, VT, 05491 Phone: 802-475-2311 Toll-Free: 800-622-4000
Fun stuff for all ages, in and out-of-doors
You'll find scores of fun activities for all ages at Basin Harbor Club on Vermont's Lake Champlain. Splash in our pool, or on the beach, where you'll find a floating water trampoline. Explore the lake by kayak or sunfish or with a narrated boat cruise. We offer tennis lessons for all ages. Or rent bicycles (we have adult and children's) and pedal Vermont's back roads. Our kids camp offers arts and crafts, badminton, basketball, golf, fishing, hiking and capture the flag. Teens can enjoy field games, Wii tournaments, dance parties, mocktail hours and an opportunity to plan their own agendas. We can arrange babysitting, too. Stay in one of our family cottages, with space for everyone.
458 Hill Farm Road Arlington, VT, 05250 Phone: 802-375-2269
There's Plenty for Kids to Do Here, Year-Round
This Inn, surrounded by Vermont countryside, will tire out the liveliest kids in your family brood – guaranteed. Adults and parents might be enamored of the Inn's luxurious beds, bathrooms, pub, and fire pit, but those kids need more room – which is available in the detached Farm House – and more action. In winter, nearby Bromley Mountains offers skiing and other snow sports. The warm seasons bring plenty of places to hike – including trails on the Inn property – and bicycle and swim. Pick-Your-Own orchards welcome families in fall, also a fine time to climb Mount Equinox. At the Inn property, kids and families can enjoy the game room with a pool table or visits to the friendly farm animals at the barn.
511 Liberty Hill Road Rochester, VT, 05767 Phone: 802-767-3926
Perfecting the family vacation for 25 years.
Yankee Magazine loves this place, calls it the "Best in New England," and the Kennett's, Vermont "Innkeepers of the Year" for 2013-14. This celebrated farm home is the perfect respite for the whole family with common areas, rocking chairs and great home style cooking and hospitality. You'll experience a real farm vacation complete with a beautiful red barn, a herd dairy cows, and the obligatory barn kittens. Seven guest bedrooms and four shared baths make it just large enough with breakfast and dinner served with local charm (and lots of maple syrup) at the family table. Swim or fish in the White River, hike or snowshoe in the woods, and enjoy the natural beauty of central Vermont that will change the way your family ever thinks about vacations again.
195 Mountain Top Road Chittenden, VT, 05737 Phone: 802-483-2311
With 350 acres to explore "family fun" is always inviting at The Mountain Top Inn & Resort in central Vermont. Overlooking the sparkling lake and majestic mountains, The Resort has affordable getaways year-round for families to swim, kayak, horseback ride, hike, cross country ski & snowshoe, ice skate, go dog sledding, take a sleigh ride or "swoosh" down the old-fashioned sledding hill (sleds provided). Our Children's Summer Horsemanship Camp is popular with our young guests. It is a fun learning experience and an unforgettable part of their summer vacation. We feature a kids menu with favorites like mac & cheese, pizza, hot dogs and P&J.
511 Mountain Road Stowe, VT, 05672 Phone: 802-253-4811 Toll-Free: 866-970-0786
No one ever says "I'm bored" at Golden Eagle Resort
Your kids will never forget a vacation at Golden Eagle Resort in Stowe, Vermont. We've got two heated pools, one indoor and one outdoor. You can fish in two stocked ponds. And hiking the surrounding nature trails is always an adventure. You might spy deer, ducks, great blue herons, or even a wandering moose. There's plenty to do in the area, too. Ride the Stowe Mountain gondola to the summit. Tour the Ben & Jerry's Factory, and enjoy samples at the end. Ramble around Stowe, which is full of great restaurants and unique shops. Rest on plush bedding with crisp linens, in rooms equipped with wifi and cable TV. Some rooms also feature jetted tubs, kitchenettes, and private balconies. Wake to breakfast at our Colonial Cafe.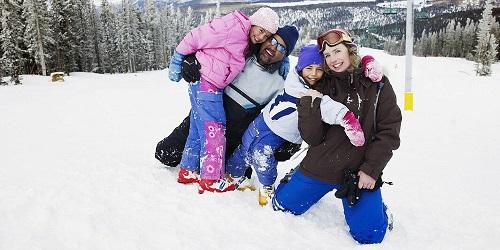 4216 Route 11 Peru, VT, 05152 Phone: 802-824-6941 Toll-Free: 800-722-2159
Southern Vermont's Family Friendly Hotel
The Lodge at Bromley is the ideal spot for a family ski vacation! Located right next to the ski slopes, our freshly renovated hotel provides convenience and modern comforts, in and out-of-doors. Family rooms are available in a variety of sizes and bed arrangements, to make sure everyone is comfortable. And of course, plenty of activities for you and the kids to do besides skiing - from the game room to outdoors sports in any season. Historic Manchester Village is also ten minutes away, featuring shops, restaurants and attractions for all ages. Group rates also are available for large families and reunions - please call for additional information.
1 Clubhouse Road Fairlee, VT, 05045 Phone: 802-333-4311 Toll-Free: 800-423-1211
Driving with the family was never so much fun
This wouldn't be a family resort without special things for moms, dads, and kids to take part in and enjoy. Lake Morey Resort has it all. Golf, swimming, boating, tennis, hiking and more, and all-weather activities like video arcades, an on-site movie theater, and an indoor health facility with a pool, racquetball court, and Jacuzzi. Babysitters can be enlisted to free up the family's time when needed. Kids aged 3-12 (and Mom and Dad too) will love the free children's program in July and August available to our M.A.P. guests. Arts and crafts and kids' sports and recreational activities are part of the children-friendly package. The outstanding professional staff is trained to ensure the safety of every guest – the young and not so young.
818 Charlestown Road Springfield, VT, 05156 Phone: 802-885-4516
Explore Vermont with your kids
The place to stay when exploring Vermont with your kids is the Holiday Inn Express Springfield. They'll love splashing in our oversized, heated, indoor, saltwater pool. And they'll be challenging you in our game room, which includes a pool table and a wide assortment of video games. Fill them up every morning at our hot breakfast bar, which includes bacon, eggs, cereal, pancakes, sticky cinnamon buns, and 100-percent-Arabica-bean coffee. And there's so much to do here, you'll never hear anyone say "I'm bored." We're just a short drive from Bromley Mountain and Okemo resorts, so if it's snowing, bring skis. Another fun activity is the Green Mountain Railroad, and antique train that travels through the hills. Or head to the Vermont Country Store and it's enormous candy counter.
401 Western Avenue St. Johnsbury, VT, 05819 Phone: 802-748-5666 Toll-Free: 866-485-0639
Kids and parents will find plenty of adventure in all seasons
Families with kids and adults of all ages will find plenty to love on a vacation at the Fairbanks Inn, in Vermont's majestic Northeast Kingdom. Standard rooms have everything you need: microwaves and refrigerators, a balcony or courtyard, Internet, cable TV. For a bigger family, a suite can also offer more space and a kitchenette. Your family dog is welcome! The Inn has a heated outdoor pool for a quick splash after your arrival, but if you are ready to venture off the property, the sky's the limit: major ski areas, mountain biking, history museums and a planetarium, theme parks like Santa's Village and Clark's Trading Post, Ben & Jerry's and the irresistible candy counter at Chutters General Store. Plenty to do every season!
77 High Meadow Way Manchester Center, VT, 05255 Phone: 802-362-2739 Toll-Free: 800-548-4141
Bring the family - there are activities for all ages and all seasons.
The Manchester View sits high up on a hill off historic Route 7A just two miles south of Dorset in the Green Mountains of southern Vermont and minutes from some of Vermont's best family fun. Bromley, Stratton, and Magic mountains are all close by. Stratton and Bromley offer summer as well as winter activities. At Bromley the Adventure Park offers family entertainment events, a kiddie park, water slide, miniature golf, zip line, and a brand new Aerial Adventure Park.

More Manchester Area family activities include: hiking, boating, swimming and fishing on the Battenkill, horseback riding, sleigh rides, farm visits, fairs and festivals, theatre, shopping, and historic sites. Guests of the Manchester View can use the private Manchester Country Club for Golf and Tennis as well. On-site pool and acres of lawn are ideal for family getaways, especially our Two Bedroom Suites sleeping up to 6 persons.

This fine lodging property combines the best of a classic Vermont country inn, motel or even a small hotel, with large rooms and suites, beautiful views and a very convenient location.
703 US Route 5 South St. Johnsbury, VT, 05819 Phone: 802-748-1500 Toll-Free: 866-489-7902
Bring your family for a blast in the mountains
For a vigorous, outdoor vacation in Vermont's majestic mountains, you could not find a better place to settle in than Comfort Inn & Suites near Burke Mountain. This non-smoking kid-friendly lodging offers so much to do in all four seasons in Vermont's historic Northeast Kingdom. In winter, four ski areas -- Jay Peak, Burke Mountain, Cannon Mountain, Bretton Woods – provide plenty of powder for family skiing and snowboarding. In the warm seasons, northern Vermont is famous for its enthusiastic "Kingdom Trails" mountain biking community, not to mention hiking, water sports, and more. Fall foliage is magnificent. The Inn offers plenty of onsite fun and resources: indoor pool, video arcade with pinball, a pool table, and an air hockey table, sun deck, fitness room, laundry, and gift shop.
4323 Vermont Route 108 South Smugglers' Notch, VT, 05464 Phone: 855-814-7325
Family fun in any season!
At Smugglers Notch Resort you'll create family vacation memories that will last a lifetime. We're nestled in Vermont's Green Mountains, surrounded by 3000 acres of pristine forest, with spectacular vistas at every turn. Our accommodations are comfortable condominiums, perfect for your family, with fully-equipped kitchens. Most have air conditioning, fireplaces, and balconies with beautiful views. We've got several restaurants at the resort, as well as a country store where you can shop for snacks or meals to prepare in your condo. We're a top ski resort with three big mountains and facilities for a host of other winter spots at well. In the summer, splash in our eight great pools, or try the water slides. We've got all sorts of activities, from miniature golf to Segway tours.
155 Sterling Ridge Drive Jeffersonville, VT, 05464 Phone: 802-644-8265 Toll-Free: 800-347-8266
Families and log cabins are made for each other
In a beautiful rural setting astride Mount Mansfield and Smuggler's Notch is this family friendly resort offering log cabin rentals with full kitchen, living-dining area, cable TV with DVD player. There is a covered porch, an outdoor charcoal grill and picnic table and for the kids, a playground, play gym and sandbox and an indoor table game room. Endless activity and family fun await from guided tours for canoes, kayaks and paddleboards on the water to shopping, farms and farmers markets and lots of local attractions and events year round. Spread out in 1, 2 and 3 bedroom deluxe, wilderness and pet friendly cabins with a seasonal hot tub and pool, two scenic ponds, a volleyball court and mountain trails for hiking, biking and cross-country skiing and much more.
175 Tyler Place Highgate Springs, VT, 05460 Phone: 802-868-4000
Six generations of family – plus yours
Presenting the all inclusive family vacation. 165 acres on a private lakeshore in northern Vermont. 70 cozy family cottages and suites tucked in nature's spaces featuring separate parents' bedrooms and 1-4 bedrooms for children or extended family, almost all with living rooms, screened porches, kitchenette or in-room microwaves and fridge. A rambling, country Inn offers a separate sleeping wing with 12 family suites and studios. Three healthy meals served each day with Vermont's own local food and specialties atop the menu. The Fireplace Lounge and Bar provides relaxation, food, drink and entertainment for Mom and Dad while the wildly imaginative children's programs, great recreational facilities and sports equipment make for endless kids fun and every kind of family activity. A magnificent destination to please every age and vacation inclination.