Vermont historic homes and sites tell story of the state's social past
Vermont's historic homes and sites include residences of writers and one U.S. president, natural history
museums
, battlefields of the American Revolution; and many homes that preserve and honor the state's diverse history as independent and self-sufficient farmers, inventors, and citizen politicians. These historic places make a great
vacation exploration
adults and kids who love American history.
1 Rotarian Place Waterbury, VT, 05676 Phone: 802-882-2700 Toll-Free: 877-879-2326
Green Mountain Coffee celebrates yesterday and today
Green Mountain Coffee has a noble history and sustainable future preserving what is good and restoring what needs restoring. Make a whistle stop at this beautiful visitor center housed in a Victorian Italianate train station built in 1875 in Waterbury and restored to its 19th century glory. Green Mountain supports the communities where its coffee is grown and harvested and is vocal about its commitment to source to cup authenticity. The gift shop has bags of great Green Mountain Coffee, Keurig brewers and accessories, artisan handicrafts, and unique items from coffee growing communities. There are interactive displays and videos and a bountiful cafe offering a daily variety of free coffee samples, specialty drinks, locally made baked goods and light fare.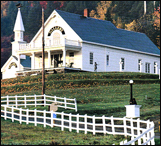 143 Parks Road Saint Johnsbury, VT Phone: 800-449-2580
Dog Mountain is on 150 acres on a private mountaintop spot in St. Johnsbury. The grounds are always open to people and their dogs. Stephen Huneck and his wife, Gwen, bought the property in 1995 and turned the barn into and art studio. The Dog Chapel soon followed, in 2000. The unspoiled haven is covered with hiking trails and dog ponds. Wildflowers abound in the summer and snow-shoeing is a favorite activity in the winter. On Dog Mountain, dogs are free to run, play, swim, and meet other dogs.
Hubbardton Battlefield and Museum
5696 Monument Hill Road Hubbardton, VT, 05732 Phone: 802-759-2412
The Battle of Hubbardton is considered one of the most successful rear guard actions in the annals of American history. A visitor's reception center houses a museum with an exhibit that places this battle into its Revolutionary War context. Strategic points along the Battlefield are marked. An annual reenactment commemorates the anniversary of the battle.
Hours: Late May to mid-October, Thursday-Sunday, 9:30 a.m.-5 p.m.
Information: www.historicsites.vermont.gov/hubbardton/
This super-cool museum on the edge of Lake Champlain is filled with unusual attractions that are sure to entertain every person in the family. Kids and parents will love the authentic paddlewheel steamboat Ticonderoga, which was a workhourse of passenger and cargo transportation on the lake for decades in the 19th century. Shelburne Museum is one of the nation's most eclectic museums of art, Americana, and design, displaying 150,000 objects on 45 acres in 25 historic New England buildings. There's even a lighthouse. A full day of family fun waits here, May through October. Information: http://shelburnemuseum.org/
St. Anne's Shrine
92 St. Anne's Road Isle La Motte, VT Phone: 802-928-3362
This is the site of Fort St. Anne, the oldest settlement in Vermont. On the shore of Lake Champlain, the site features the remains of the fort, as well as a chapel, grottos, and a statue of Samuel de Champlain. this also is a spiritual attraction, maintained by the Society of St. Edmund, and visited by religions pilgrims. Many rustic grottos around the property are visited for quiet contemplation and prayer. Picnic facilities and an all-purposed building are open. A cafe serves breakfast in July and August.
Admission: Free.
Information: www.saintannesshrine.org
Ethan Allen Homestead
1 Ethan Allen Homestead Burlington, VT Phone: 802-865-4556
The homestead of Vermont's Revolutionary War Hero, Ethan Allen. Built in 1787, visitors can tour the farm and view exhibits related to Allen's life, colonial history and the history of Vermont. The visitor's center also offers a multi-media program about Ethan Allen.
Hours: May 9 to October 14, daily except Wednesdays, 10 a.m.-4 p.m.
Admission: General, $7; seniors and Vermont residents, $5; children age 3-6, $3.
Information: www.ethanallenhomestead.org/
Mount Independence Historic Site
497 Mount Independence Road Orwell, VT Phone: 802-759-2412
Mount Independence was a fortified position during the Revolutionary War. Several trails on the 300-acre property of pasture and woodland link the remains of the Revolutionary War fortification, like batteries, blockhouses, and barracks. The trails have spectacular vistas overlooking Lake Champlain and the surrounding countryside. Some of the trails are wheelchair accessible. All trails start at the Visitors Center.
Open late May through early October, daily, 9:30 a.m. to 5 p.m. Admission: $5.
Information: http://historicsites.vermont.gov/mountindependence/
Chimney Point State Historic Site
7305 VT Route 125 Addison, VT Phone: 802-759-2412
Chimney Point on Lake Champlain has evidence of human presence from 7,500 years into the past. Exhibits and events tell the stories of Native American, French colonial, and early American people on this site. The stories are told artifacts left behind, contemporary arts and traditions practiced by current inhabitants, and historic buildings in a marvelous setting
Hours: Wednesday-Sunday, 9:30 a.m.-5 p.m.
Information: http://historicsites.vermont.gov/chimneypoint.
The Church on the Hill
Lawrence Hill Road Weston, VT, 05161 Phone:
Set atop a hill overlooking the quintessential New England village of Weston, the landmark Church-on-the-Hill has been a fixture in the Vermont countryside for over 150 years. Founded in 1838, it is a "church of all faiths" holding non-denominational services every Summer Sunday. It also hosts a renowned concert series, Sundays on the Hill.
Information: www.vtchurchonthehill.org/
Old Constitution House and Museum
Main Street Windsor, VT, 05089 Phone: 802-672-3773
This is the historic tavern where Vermont's first state constitution was written. The museum includes exhibits of New England antiquities. A large interpretive area in the tea room examines the events surrounding the signing of the Vermont Constitution.
Hours: Late May 26 through mid-October, Saturdays and Sundays, 11 a.m.-5 p.m.
Admission: Adults, $2.50; children age 14 and younger, free.
Information: http://historicsites.vermont.gov/constitution.
President Calvin Coolidge Birthplace & Historic Site
3780 Route 100A Plymouth, VT, 05056 Phone: 802-672-3773
"Silent Cal," America's 30th President was born, buried, and sworn in as President at the Aldrich House, the centerpiece of this restored village. The homes of Calvin Coolidge's family and neighbors, the community church, cheese factory, one-room schoolhouse, and general store have been carefully preserved, and many of the buildings have their original furnishings. The President is buried in the town cemetery.
Hours: Late May to mid-October, daily, 9:30 a.m. to 5 p.m.
Admission: Adults, $7.50; children age 6 to 14, $2; children under age 6, free; family pass, $20
Information: http://bit.ly/YRzTH9
Wilson Castle
West Proctor Road Proctor, VT Phone: 802-773-3284
This mansion, built in the mid-19th century, offers a variety of imported, elegant furniture and household items. The 115-acre estate is also home to gardens and walkways. Popular Haunted Castle tours are offered during the Halloween season. A production called Murder Mysteries live combines dinner theater, scavenger hunt, and guest participation game.
Hours: Memorial day weekend to mid-October, guided tours daily, 9 a.m.-5 p.m. Season finishes with two weekends of Haunted Castle tours.
Admission: Adults, $10; children age 6-12, $5.50.
Information: www.wilsoncastle.com/
Park-McCullough Historic Estate
1 Park Street North Bennington, VT, 05257 Phone: 802-442-5441
Park-McCulloughis often described as one of Vermont's jewels. The 35-room house was completed in 1865 for Trenor and Laura Park. This summer home is a classic example of French Second Empire style. Visitors may arrange a tour of the grounds with the adjacent Mile-Around Woods and the Hiland Hall Farms Garden.
Hours: Season is May through December, tours of the house are by appointment only; the public is welcome to visit the ground any time during daylight hours. The house is open for special holiday events in November and December.
Information: www.parkmccullough.org
Farrar-Mansur House Museum
Route 100, On the Green Weston, VT, 05161 Phone: 802-824-8190
Originally built as a tavern in 1797, the house is now operated as a historic house museum by the Weston Historical Society. Collection includes 18th and 19th century decorative arts and furnishings.
Hours: Memorial Day-July 1, Saturday-Sunday, 1-4 p.m.; July 1-Labor Day, daily, 1-4 p.m.
Admission: $2.
Information: http://bit.ly/UmIYFV
The Old Mill
The original 18th century mill was burnt beyond repair in 1900, but has been authentically reconstructed. Visitors can watch the operation of one of few water-powered mills in New England, milling grain as was done 75 years ago. Tours are offered.
Hours: Open July through early October, Saturday and Sunday afternoons, and on Wednesday afternoons through September 7.
Information: http://bit.ly/Z6FsUz
President Chester A. Arthur Historic Site
455 Chester Arthur Road Fairfield, VT Phone: 802-828-3226
The home of America's 21st President, Chester A. Arthur, has been restored. On the grounds visitors will find a 19th century brick church, a picnic area, and a great deal of information about this little-known leader of the U.S.
Hours: July 4 through mid-October, Saturday and Sunday and Monday holidays, 11 a.m.-5 p.m.
Information: http://historicsites.vermont.gov/arthur
Vermont State House
115 State Street Montpelier, VT Phone: 802-828-2228
The striking gold-domed Vermont State House commands the landscape of Montpelier, the smallest capital city in America.
Hours: Year-round, Monday-Friday, 8 a.m.-4 p.m. except state holidays. Guided Tours available on the half-hour, free of charge, July through mid-October.
Information: www.leg.state.vt.us/sthouse/sthouse.htm
Joseph Smith Birthplace Memorial
357 LDS Lane South Royalton, VT, 05068 Phone: 802-763-7742
At the birthplace of the founder of the Church of Jesus Christ of Latter-day Saints (Mormons) is one of the world's tallest solid granite spires in the world, erected in 1905. Site includes Visitor's Center with historical art and exhibits, a theater, changing special exhibits, stone walls and bridge.
Hours: November–April, Monday–Saturday, 9 a.m.–5 p.m.; Sunday, 1:30–5 p.m.; May–October, Monday–Saturday, 9 a.m.–7 p.m.; Sunday, 1:30-7 p.m.
Admission: Free.
Information: http://bit.ly/12xyqy9
Old Stone House Museum
109 Old Stone House Road Brownington, VT, 05860 Phone: 802-754-2022
The Old Stone House, built as a school dormitory in 1834-36, now houses 25 rooms of exhibits focusing on 19th century life in northern Vermont. The collection includes furniture, textiles, photographs, pottery, folk and fine art, and many of the tools and utensils of daily life.
Season: May 15-October 15, Wednesday-Sunday, 11 a.m.-5 p.m.
Hours: Call for hours of operation. Admission is by guided tour only. There is no tour schedule; when a visitor arrives, a tour guide will begin.
Admission: Adults, $8; students, $5.
Information: oldstonehousemuseum.org.
Justin Smith Morrill Homestead
214 Justin Morrill Memorial Highway Strafford, VT Phone: 802-765-4288
A Gothic revival home with 17 rooms and 7 additional buildings on the property. This was home to Justin Smith Morrill, who established Land Grant Colleges in Vermont. Visitors will enjoy historical exhibits.
Hours: Memorial Day through Columbus Day, Saturday and Sunday, 11 a.m.-5 p.m. Tours are conducted on the hour.
Admission: $5.
Information: www.morrillhomestead.org/
Bennington Battle Monument
A 306 foot stone monument that pays homage to the Battle of Bennington. An elevator can take visitors to an observation point.
Historic Grafton Village
Routes 121 and 35 Grafton, VT Phone: 802-843-2255
This restored 19th century village offers visitors a detailed look at life in a bygone era. The site includes walking trails, museums, a cheese factory, agricultural exhibits, and even a cross-country ski center in the winter.
Historic Hildene
This mansion was the home of Robert Todd Lincoln, President Abraham Lincoln's only surviving son. The house and furnishings have been restored to their 19th century appearance. A visitor's center offers additional information through exhibits and a slide show.