Discover the luxury & romance of Vermont country inns for your vacation
Vermont's country inns are ideal for a luxurious and romantic getaway for vacationers who love fine food, wonderful views, and the beauty of nature. From Victorian houses to townhouses or cabins and cottages, Vermont inns are stocked with pleasures like canopied beds, working fireplaces, Jacuzzis and hot tubs, surround sound from CD and DVD players. Restaurant dining praised by Gourmet and Bon Appetit magazines pleases any palate.
Outdoors, four seasons of fun sports and activities for adults, families, and kids, including skiing and snowboarding, hiking, swimming and kayaking, golf, horseback riding, or just simply enjoying the beauty of Vermont's Green Mountains, Lake Champlain, and Northeast Kingdom. A variety of packages make a vacation at a Vermont inn affordable for almost everyone. Another advantage: many Vermont inns are an easy one-to-four-hour drive from major cities like Boston and New York and Montreal. A romantic weekend getaway is a snap!
630 Main Street - Scenic Route 100 Weston, VT, 05161 Phone: 802-824-6789
Southern Vermont hospitality in an award winning B&B
This award winning B&B in the Green Mountains offers thirteen guest rooms in three separate lodgings with king feather beds, whirlpool tubs or steam-shower/saunas, gas fireplaces and free Wi-Fi. Breakfast each day starts with endless coffee and a hot entrée and afternoon refreshments are served in the library where you'll find an extensive book collection. A magnificent greenhouse showcases the proud owner's array of over 500 orchids. Relax in the gardens or in an Adironack chair on the deck..Weston village green is a joy to visit with a waterfall, shops and galleries. Dinner is a candle-lit affair featuring local ingredients, seasonal flavors and live piano music nightly. French doors open from the cozy pub onto a spacious deck and orchid-filled gazebo.
793 VT Route 5A South Westmore, VT, 05860 Phone: 802-525-4123 Toll-Free: 800-594-9102
Settle in for a cozy comfy Green Mountain getaway
Cozy is as cozy gives and Vermont's Willough Vale Inn & Cottages are cozy to the max. There are lakefront and lakeview cottages, and luxury rooms and suites with a fireplace and a Jacuzzi tub. You'll always find breathtaking views of the mountains and Lake Willoughby. Sit along the shoreline and relax with some Robert Frost poetry and picture him camped as he did at the present site of the inn. Dine at the waterfront restaurant, Gil's Bar & Grill, where gourmet entrees can be savored along with the call of the loons at twilight. Discover a corn maze, learn maple sugaring or just spend time engaged in your favorite outdoor activity year-round. It's all here. And it's all good.
Fourteen The Green Woodstock, VT, 05091 Phone: 802-457-1100 Toll-Free: 800-448-7900
Located in the heart of Woodstock, coined "the prettiest small town in America"
The Woodstock Inn & Resort evokes nostalgia for simpler times, while featuring first-rate facilities to satisfy our most well-traveled and discerning guests.

Couples, families and adventure seekers alike will find plenty to do both indoors and out. For those looking to unwind and unplug, Our new spa features nourishing treatments and organic products that will leave you feeling refreshed and rejuvenated. If you're here on business, our event and banquet facilities provide quaint ambiance with up-to-date services, including wireless internet access.
458 Hill Farm Road Arlington, VT, 05250 Phone: 802-375-2269
Lovely Vermont Countryside Swaddles This Inn
Vermont's rural beauty embraces this comfortable resting place, where three buildings –the Main House (1830), the 1790 House, and the Farm House -- have been re-created into places of rest and enjoyment, with activities year-round. The three buildings offer old-fashioned comfort and modern amenities for couples, parents and kids, and groups. The main buildings have luxury suites or rooms with lavish custom bathrooms. The day opens with breakfast featuring local eggs, jam, and maple syrup. Groups of up to eight can stretch out in the free-standing, two-story farm house with a modern kitchen and Vermont Castings stove for frosty nights. On-site entertainments include walking trails, game room with a pool table, an outdoor fire pit, a pub, and a barn with friendly farm animals to visit.
3967 Main Street Manchester, VT, 05254 Phone: 802-362-1793 Toll-Free: 800-273-1793
Relax in comfort at a distinctive Vermont inn
Heading to Vermont for skiing, hiking, or golf? Stay at the Inn and Manchester and make your trip a memorable one. You won't find a more comfortable or relaxing B&B. We've got 21 rooms, including suites, and some include fireplaces and offer mountain views. Every room is equipped with a flat-screen TV, a massage shower head, distinctive toiletries, and air conditioning. An ample country breakfast is served every morning, and complimentary hot and cold beverages are available all day. Enjoy a glass of wine in our fully-licensed pub. Our public areas feature fireplaces and offer games, puzzles and books. WiFi access is available, and we've got a computer for your use. In summer months splash in our secluded pool. Explore Manchester's great shops, galleries, and great restaurants.
89 Houston Farm Road Stowe, VT, 05672 Phone: 802-253-6282
Stone Hill Inn has a magic way of making romance happen
At Stone Hill Inn in Stowe, Vermont, you'll enter a magical world of romantic indulgence. Forget the rest of the world on our secluded nine and a half acres of forests and gardens. Unwind with massage for two in the privacy of your room. Relax in a two-person Jacuzzi beside a crackling fire. Awake to a delicious breakfast in a sunlit room with 40 windows and cathedral ceilings. Recreation opportunities abound in our area. In summer months have an exciting adventure in a hot-air balloon. In winter got dashing through the snow in a horse-drawn sleigh. You'll also find hiking, kayaking, white water rafting, ziplining, fall foliage tours, and snowboarding and skiing on Mount Mansfield.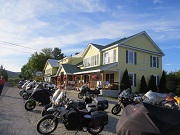 290 Route 100 North West Dover, VT, 05356 Phone: 802-464-2472 Toll-Free: 800-745-3615
Motorcyclists' Haven along Scenic Route 100
We know that riding is all about the journey, but also that it doesn't hurt to end your day somewhere that "gets" the love of the road. Make the Gray Ghost your new favorite pit stop! Bring your whole bike club and take over our pool, backyard, game room... or cruise in solo and make some new friends while you're in town. From our location right along Route 100 and just a few miles off of the Puppy Dog route, you'll find just the riding you're looking for.
48 Lower Waterford Road Lower Waterford, VT, 05848 Phone: 802-748-5168
Tranquil getaway with luxury lodgings and amenities
Escape to Vermont's Northeast Kingdom and this romantic 19-room bed and breakfast. Set on acres of sweet scented gardens and wooded walking trails, the Inn caters to adult getaways, honeymoons, celebrations, and fun-filled vacations. Come for the quiet and explore a region that has little changed in more than 100 years. Enjoy luxury, superior and classic rooms and suites with private baths, sitting areas, double whirlpool tubs, working fireplaces and glorious views of the White Mountains. Disconnect and indulge yourself with in room full body massages, bountiful candlelit breakfasts. mid-day pastries, and dining in one of Vermont's best restaurants. You're near the finest year-round recreational activities, shopping, antiquing, covered bridge tours and others. Add-on vacation packages and lodging specials available.
195 Mountain Top Road Chittenden, VT, 05737 Phone: 802-483-2311
Mountain Top Inn & Resort is a four season resort, in central Vermont, just a short drive from Killington. Set on 350 private acres with sweeping views of the Green Mountains and a 740 acre lake, the Resort is one of central Vermont's most sought after vacation destinations. Offering classic & luxury lodge rooms and suites, luxury cabins and a wide variety of guest houses (many houses & cabins are pet friendly), the perfect get-away awaits you. Relax in the brand new spa or enjoy a wide variety of activities from horseback riding, boating and swimming to Nordic skiing, snowshoeing, sleigh rides and more. The Resort's Dining Room and Tavern offer creative cuisine and over 12 Vermont craft brews. Any season of the year, the Mountain Top is the perfect escape.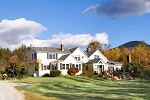 7 Woodward Road - Route 4 Mendon, VT, 05701 Phone: 802-775-2290 Toll-Free: 800-752-0571
Secluded, charming and Vermont perfect lodgings
The contemporary New England Inn has several defining features. There's history on its side, a scenic location, old world charm and grace, fireplaces and taverns and ever more locally sourced flavors in food and wine. This beautifully restored country property near Killington and Pico offers a wide selection of plush rooms and amenities including private bath and queen beds, many with fireplaces and/or Jacuzzis. The Great Room has yet another fireplace and the cozy tavern. Vermont specialties and local farm ingredients make for a warmly received breakfast while food and wine lovers will love the exceptional "Best of Killington, VT" cuisine with European flair. Enjoy a spa treatment or step outdoors to the Long Trail, quaint villages, scenic drives, skiing, sleigh rides, hiking, and more.
39 West Road Manchester Village, VT, 05254 Phone: 802-362-2586 Toll-Free: 800-822-2331
Classic New England elegance with modern accents
Antique furnishings, fireplaces, marble baths and original, museum-quality artwork along side contemporary comforts - such elegance will surround you when you stay at The Reluctant Panther in Manchester, VT. Each of our 20 spacious rooms are designed to create a truly gracious and relaxing overnight experience. Our award-winning restaurant will complete your experience, with the finest farm-to-table fare fused with the culinary expertise of Executive Chef Peter Belmonte. The Reluctant Panther is indeed a rarity, a country inn that offers refinement, not quaintness.
92 Main Street Grafton, VT, 05146 Phone: 802-234-8718
An historic Inn with a never growing old feel
Located 35 miles north of Brattleboro, the Grafton Inn is one of the oldest operating inns in America opening its doors in 1801. Experience New England as it used to be in romantic Grafton, Vermont, with picturesque scenery and simple pleasures. Enjoy renowned hospitality and distinctive accommodations with amenities that include onsite yoga classes and massages, a fitness center, swim pond, paddle tennis court, game room, and in-room private bath and complimentary WiFi. You're near the areas major attractions, recreational activities and events and the Inn's own Grafton Ponds Outdoor Center offering activities for all ages on 2,000 acres of trails and grounds. Savor fine dining in The Old Tavern Restaurant and casual fare at Phelps Barn bar and pub.
18 South Main Street Stowe, VT, 05672 Phone: 802-253-7301 Toll-Free: 800-253-7302
One hundred years of classic comforts and amenities
With a reputation considered among the best in Stowe, this cozy and full service Inn offers the finest in a magnificent natural setting and comforts and amenities. The Vermont mountainscape is stunning and for more than a century has inspired guests to travel here from all around the world. Unique guest rooms, luxury rooms, suites and family suites, provide the classic touches to meet the needs of casual and more discerning travelers. There are two acclaimed restaurants, specialty shops, a year-round heated outdoor pool, outdoor Jacuzzi, game room, a fire pit, and a spot of afternoon tea if you like. The health club is fully equipped health and offers a large indoor Jacuzzi and sauna.
at Tyson, on Route 100, 2 Dublin Road Ludlow, VT, 05149 Phone: 802-228-8602 Toll-Free: 800-356-6844
New England character and charm enjoyed for more than a century
The words authentic and original fit this historic and charming lodging built in 1840 as a Victorian Hotel along a stage coach line. One of the few remaining Vermont country ins to be open year round, it's set in the beautiful lakes region and offers the scenic splendor and New England hospitality favored by presidents and celebrated Americans for more than a century. The Inn features 23 rooms, a family suite and 7 condos, along with a swimming pool and outdoor Jacuzzi, tennis, and a dock with canoes and row boats. You're 5 minutes from Okemo for skiing and golf, with hiking, biking and horseback riding all close at hand. Savor great food and excellent service in the on-site restaurant.