Vermont's country and mountain inns are ideal for small, family weddings
Vermont's small towns and countryside have many mountain and country inns and other lodgings to host small, family only weddings or a small wedding combined with a family vacation. Lodging and wedding lodging packages are available for smaller and destination weddings in VT.
1496 West Hill Road Warren, VT, 05674 Phone: 802-496-7162
Just you two and your dearest peeps for a wonderful celebration
Intimate weddings with up to 50 guests are ever more special when coupled with a great setting. Here in the Green Mountains, West Hill House provides that and more to ensure that you and your guests enjoy year-round activities, local attractions and the best of central Vermont. Every detail will be covered to help you personalize your wedding day including the Justice of the Peace, your choice of location for the your ceremony, 2 night's accommodation in either the Paris Suite, Mountain Room or Wildflower Room, tables, chairs, tablecloths, place settings, glasses etc. for the reception dinner, and assistance in selecting your caterer. The Inn is also state licensed for the sale of beer and wine and can provide the beverages of your choice.
Fourteen The Green Woodstock, VT, 05091 Phone: 802-457-1100 Toll-Free: 800-448-7900
The perfect Vermont setting for an intimate wedding
Marry in a fairy book town that appreciates small things. Plan your intimate New England country wedding at this celebrated resort overlooking one of the prettiest small towns in America. Select as you need from a menu of inspired cuisine, state-of-the-art facilities, luxurious accommodations, and special bridal packages that fit your wishes and budget. Choose from unique outdoor facilities and tented options, manicured lawns, fragrant gardens and terraces, an historic and beautifully appointed working farm, a ski lodge, even a log cabin. Any season is the right time as the sprawling grounds make for a perfect romantic destination. Right out the door is a covered bridge ideal for photos. Wed in Vermont's natural splendor for memories that last a lifetime.
1 Clubhouse Road Fairlee, VT, 05045 Phone: 802-333-4311 Toll-Free: 800-423-1211
Big Service and Luxury for Small Weddings on the Lake
Despite the term "resort" in its name, Lake Morey Resort can host an intimate sized wedding that exactly fits your family and your tastes. You don't need to go big to go beautiful at this year-round resort aside a pristine lake in central Vermont. You may choose from several of the smaller function areas, some with views of the lake. Professionals at this family-owned property will work with you to plan for all your small party's needs. Before or after the wedding day, your family and friends might opt to enjoy the resort's many amenities: golf on a championship course, boating and hiking in summer, skating and snowshoeing in winter.
89 Houston Farm Road Stowe, VT, 05672 Phone: 802-253-6282
Wed amidst Vermont splendor in an intimate setting
Plan an intimate Vermont wedding near scenic Stowe. The Stone Hill Inn invites you to this unspoiled, beautiful, peaceful Vermont community to celebrate your dream wedding here. Quiet and secluded, this boutique Inn is known for its intimacy and charm, and for providing the perfect setting for wedding parties and their guests. You'll share a luxurious nine-room retreat surrounded by forests and gardens. Exchange vows along garden paths or next to a glistening waterfall. Hold a winter ceremony highlighted by falling snow within a forty-windowed room or near the warmth of the Great Room in front of the fireplace with candles. There are special packages to offer you the luxury of every detail to meet your special wishes and desires.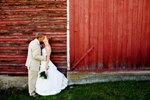 7 Woodward Road - Route 4 Mendon, VT, 05701 Phone: 802-775-2290 Toll-Free: 800-752-0571
Intimate Vermont Destination Weddings & Receptions
From destination weddings to intimate elopements, receptions to rehearsal dinners, the Red Clover is the perfect country inn for your Vermont wedding in any season. Tucked away on its own private road between Killington and Rutland, this beautifully restored farmhouse inn has it all: fabulous food and dining, lovely accommodations, stunning mountain views, and truly personal attention to help you experience the happiest, most memorable day of your lives. Our innkeepers and chefs will help you personalize your special day, and you and your guests will feel completely at home in our guestrooms and suites. Just call for a visit!
92 Main Street Grafton, VT, 05146 Phone: 802-234-8718
Enjoy Vermont beauty and local history just the two of you.
Steal away together to this historic country Inn in scenic Grafton, Vermont. Celebrate your special day privately and romantically in a setting you will never forget. The Inn's elopement package includes two nights lodging in a suite with either a double Jacuzzi or a double soaking tub; upon arrival, a bottle of champagne and a Grafton Village Cheese gourmet basket, a full Vermont country breakfast each morning, dinner for two each night, including a three course meal with a bottle of wine, and arrangements for a Justice of the Peace and flowers. The rest is up to you - onsite yoga and massage, a fitness center, a swim pond, and the areas major attractions and recreational activities at your doorstep.