Scenic drives and byways guide you through the best of Vermont
Take a day, and picnic basket, and directions for a scenic drive in Vermont to enjoy an experience that you won't forget. People love viewing the colored leaves during fall foliage, but Vermont's valleys and mountains are enticing all year around. It's easy to get around Vermont
by car
– no big cities so there's no big traffic. Discover Vermont's scenic drives, foliage drives, scenic highways, and National Scenic Byways. Get ready to stumble upon some unexpected
great things to do
.

Routes 100 and 100B Granville, Warren Waitsfield, Moretown, Middlesex, VT Phone:
Length: 35 miles
The Mad River Byway is a foray through the heart of Vermont, passing around or through lovely and lively downtowns, farms, famous ski areas (Sugarbush and Mad River Glen), and historic sites. A pleasant walk along the Mad River is accessible via the well-planned, mapped, and landscaped
Mad River Path
through and around Waitsfield.
Driving directions: The Mad River Byway takes you along two of Vermont's most scenic roads, Routes 100 and 100B. Along the way you'll find Middlesex Village (Route 2); Moretown (Route 100B); Waitsfield, Warren, Granville Gulf Reservation (Route 100); Fayston, and Buels Gore to the top of the Appalachian Gap (Route 17).
Vermont Byway Maps
Route 2, Route 7, others Champlain Islands, Burlington, Middlebury, Vergennes, VT Phone:
Length: 134 miles
This byway traces the eastern shore of beautiful Lake Champlain, and includes some inland portions near and south of the town of Middlebury. The byway serves up a continuous stream of vistas of mountains, lake, and valleys, of towns and farms. On the Lake Champlain Islands, gorgeous views of the lake can be seen at almost every bend in the road. There are many performing arts venues, local festivals, and historic sites and museums. State parks on the lake are plentiful.
Driving directions:
This byway runs along the northern length of Lake Champlain, and uses parts of U.S. Route 2 in the north and U.S. Route 7 in Chittenden. The byway splits and leaves Route 7 in Middlebury.
Vermont Byway Maps
Route 100 Waterbury to Stowe, VT Phone:
Length: 11 miles
The Green Mountain Byway travels from Waterbury to Stowe, between mountain ridges. This byway is close to skiing, snowboarding and cross-country skiing, sites as well a outdoor warm-weather activities. Along the route are Little River, Smugglers Notch, and Waterbury Center state parks and Mount Mansfield and Putnam state forests. Along with beautiful scenery, a large variety of attractions for all ages and tastes re on : Ben & Jerry's ice cream factory, Cold Hollow Cider Mill, and Vermont Ski Museum.
Vermont Byway Maps

Route 30 Hubardton, Castleton, Poultney, Wells, Pawlet, Rupert, Dorset, Manchester, VT Phone:
Length: 30 miles
The Stone Valley Scenic Byway travels through the center of the center of Vermont, where the state's slate and marble quarrying and production history is visible on all sides, along with historic, picturesque towns and farms.
Vermont Byway Maps

Route 91 in Vermont; Routes 2 and 3 in New Hampshire Brattleboro, Bellows Falls, Windsor, White River Junction, Wells River, St. Johnsbury, VT Phone:
The Connecticut River Byway parallels and occasionally cross the eastern and western shores of the Connecticut River, which forms most of the border between Vermont and New Hampshire. The byway and its river trace the history of the region from long before the European arrival on this contnent. On this byway, visitors can drive across a 465-foot covered bridge that dates from 1866, explore restored historic railroad stations that now serve as waypoint centers, and visit farms, antique shops, artists' studios and breweries.
Vermont Byway Maps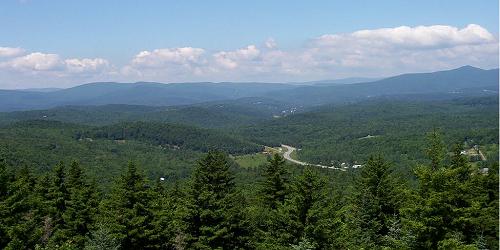 Route 9 Brattleboro to Bennington, VT Phone:
Length: 48 miles
The byway is named after the popular wife of General John Stark, who led the Colonial militia to a victory at the Battle of Bennington on August 16, 1777. The Molly Stark Byway travels around and through Green Mountain National Forest and its towns and villages. Interesting, must-see towns on the byway are Brattleboro, Bennington, and Wilmington. The scenic byway passes historic districts, hiking trails, state parks, winter sports centers, and lakes. It is a compact taste of mountainous southern Vermont.
Molly Stark Scenic Byway map.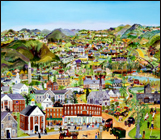 Route 7A Pownal to Manchester, VT Phone:
Tucked between the Taconic Mountains and Green Mountains, along Route 7A, the Shires of Vermont is a place of majestic mountain views, brilliant fall foliage, and wonderful towns, including the bookend towns of Bennington and Manchester. Historic Route 7A runs parallel to the Long Trail, a hiker's path that follows the length of Vermont from Massachusetts to Canada; part of the Long Trail also is the Appalachian Trail. Each town of the Shires has its own ambiance. Pownal has organic farms against a backdrop of mountains. Bennington is a pretty place with interesting dining and shopping. Old Bennington is the home of the Bennington Battle Monument and it is filled with traditional New England architecture. Manchester, a four-season destination, is known today for golf, fishing, skiing, the arts, and shopping. Distance from Pownal to Manchester is 33 miles – an easy distance that allows for a lot of stopping and sightseeing along the way