Boutique hotels of Vermont give you a rich, in-country experience
Vermont's boutique hotels offer rustic charm, elegance and personalized service in unique settings. Warm, friendly and historic accents merge with luxuries that make the perfect end to a day or weekend of biking,
walking
, or
museum visits
. Enjoy four-poster beds with luscious linens, walk in showers and Jacuzzi tubs, gas fireplaces, balconies and patios. There's enough private space, open design and amenities from high speed internet to flannel pajamas to please the most discerning tastes. The onsite bistros, cafes and award winning farm-to-table
cuisine
will leave you wondering why you should ever leave.
39 West Road Manchester Village, VT, 05254 Phone: 802-362-2586 Toll-Free: 800-822-2331
Step into elegance and sophistication
The Reluctant Panther in Manchester Village is southern Vermont's premier boutique hotel, featuring 20 rooms and suites that encompass modern hospitality. We do still feel that connection to the past, which is why you'll also find historic accents - antique furnishings, fireplaces, marble baths and original, museum-quality artwork. A similar approach was taken with Reluctant Panther's award-winning restaurant - sophisticated modern takes on traditional New England dishes by Executive Chef Sigal Rocklin, featuring locally raised and grown ingredients. And Manchester Village is one of Vermont's best-loved destinations in any season for shopping, outdoor recreation, or just a romantic weekend.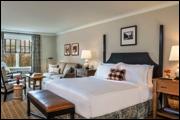 3835 Main Street Manchester Village, VT, 05254 Phone: 802-362-0147 Toll-Free: 877-699-3331
Manchester's Taconic Hotel is where rural charm meets sophistication
Stay at Taconic in Manchester, Vermont, and you'll experience both idyllic rural charm and urbane sophistication. You'll be surrounded by both the Taconic Hills and the Green Mountains, a setting that might have inspired a rustic ode by Robert Frost. At the same time, we're a true boutique hotel, offering all the luxury that phrase suggests. We're managed by Kimpton, a chain noted for innovative amenities. Every evening enjoy a wine hour, where a hotel host uncorks a few bottles and pours you a glass or two gratis. In your room you'll find a Gaiam yoga mat, and yoga lessons airing on the flat-screen TV. Dining with us will be truly memorable. Kimpton is known for serving farm-to-table restaurants and extensive wine lists.
458 Hill Farm Road Sunderland, VT, 05250 Phone: 802-375-2269
Designer's Eye Creates a Place of Rural Elegance
The two main buildings and detached Farm House of this country retreat are lavished with warm details and extra services that make a visit to this inn a pleasure for the senses. The beauty begins with the surrounding mountains and lake, then moves indoors to a refined, relaxed farm vernacular with details like lofty peaked and beamed ceilings; custom bathrooms with separate shower and bathtub or quartzite shower and travertine vanity bathroom; down pillows and comforters; and Crabtree and Evelyn spa products. Some rooms are brightened by Vermont Casting stove; some have adjoining rooms to accommodate families and kids. The Farm House welcomes groups of eight people, including cooks, with its modern kitchen. On-site walking trails are a delight in all seasons, & our new pool is great summer fun.