Vermont travel is perfect for fun family activities & things to do with kids
Families with kids can find year-round fun in Vermont in the mountains for skiing, snowboarding, zip lines and canopy tours. Fun family adventures can include swimming and fishing, history museums and children's museums, and fun farm visits. Celebrations, festivals and activities for kids and adults happen year-round at the elegant Stowe ski area, reminiscent of grand European ski resorts. Lots of
lodgings
and
waterfront resorts
provide welcome and fun diversions for kids.
Click Here for Family Friendly Lodgings.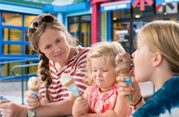 1281 Waterbury Stowe Road Waterbury, VT Phone: 866-258-6877
Chill out with a fun & friendly ice cream factory tour
Here's a scoop: The coolest family activity in Vermont is the Ben & Jerry's Factory Tour. On the 30-minute guided tour, you'll watch a short video in the Cow Over the Moon Theater, see the production room where the ice cream magic happens and sample the newest frozen taste treat at the Scoop Shop. Plus, you can visit the Flavor Graveyard, where 35 flavors have been permanently de-pinted (R.I.P. Wavy Gravy and Ethan Almond). There's a play area for kids, and strollers are welcome. Feeling particularly adventurous? Start with a 30-minute Umiak snowshoe tour in the woodlands behind the factory! And don't forget to bring home a quirky souvenir from the gift shop. Tickets are timed, so no waiting in long lines.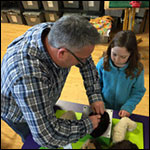 6655 Shelburne Road Shelburne, VT, 05482 Phone: 802-985-3001 Toll-Free: 800-829-2327
Family Fun at Vermont Teddy Bear!
A visit to Vermont Teddy Bear is the perfect family outing! Pack a lunch, come meet Ted E. Bear and take a factory tour given by one of our knowledgeable Bear Ambassadors. During the tour, you'll see how our Bears are made and kids get to decode a secret Bear message. After your tour, stop in our Bear Shop and let the kids create their own Bear. Then relax outside with a well-earned lunch break at one of our picnic tables and toss a Frisbee around to finish off the perfect family day. All tour and store information is available on our website.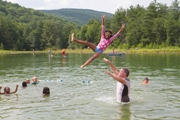 473 Tatro Road Starksboro, VT, 05487 Phone: 802-453-2592 Toll-Free: 800-430-2667
Uncommon Fun for Grownups and Kids
Camp Common Ground sits on 700 gorgeous acres in the heart of Vermont, and each year many families make the trip to enjoy a week-long getaway. A non-profit founded in 1994, the inter-generational family camp is designed to provide families with a fun bonding experience while weaving in traditional summer camp activities, including arts, music, nature, wellness, and sports. Give cello a go, take a tennis lesson, try your hand at blacksmithing, go for a hike, or simply relax in a hammock with a good book – there truly is something for everyone! Camp Common Ground prides itself on welcoming all definitions of "family" and cultivating a sense of community among campers. The camp is 100% solar-powered and features a private swimming pond, tennis courts, hiking trails, a campfire pit, and more! Your week long getaway includes lodging in a tent, cabin, or lodge; all meals (local, organic, and vegetarian); and all activities. Nestled in the heart of New England, Camp Common Ground is the ultimate family destination!
1168 County Road Montpelier, VT, 05602 Phone: Toll-Free: 800-242-2740
The Morse family has some maple magic for your family
Here is a farm with 200 years experience the whole family will enjoy with scenic views, four season fun, and lots of maple syrup, jams, jellies and other goodies to discover. The Morse's do it right in so many ways whether its showing you their maple syrup process or presenting displays and artifacts and a humorous educational video in the Woodshed Theater. There are monthly events. a nature trail, a country store filled with local crafts and gifts, and an outdoor farm life museum. The Ski Touring Center has cross country and snowshoe trails for sliding, snowmobiling and skating. Once sugarin' time comes around in March, take part in their annual maple tastings. And don't miss the sugar on snow.
1 Rotarian Place Waterbury, VT, 05676 Phone: 802-882-2700 Toll-Free: 877-879-2326
Bring the family for the history, and enjoy some freshly brewed coffee too
A visit to the Green Mountain Coffee Visitor Center & Cafe will prove to be an experience with something for everyone in the family. Part classroom, part historical landmark, this beautiful visitor's center is restored in 1875 Victorian Italianate style. An interactive display & video shows how our coffee is grown, harvested & roasted. You'll find the gift shop full of coffee items, unique gifts and Vermont-made artisan handicrafts inspired by coffee-growing countries. The café offers fresh baked goods, sandwiches and enough delicious coffee to make your day a good one. Each day the coffee experience comes to life from your first sip!
Shelburne Farms
1611 Harbor Road Shelburne, VT, 05482 Phone: 802-985-8686
This environmental education center on the shores of Lake Champlain invites the public to learn about environmental conservation. Visits start at the Welcome Center with a slide show and samples of the farm's award-winning cheddar. Kids and families can then explore the walking trails and activities at the Farm Barn, including the Children's Farmyard.
This super-cool museum on the edge of Lake Champlain is filled with unusual attractions that are sure to entertain every person in the family. Kids and parents will love the authentic paddlewheel steamboat Ticonderoga, which was a workhourse of passenger and cargo transportation on the lake for decades in the 19th century. Shelburne Museum is one of the nation's most eclectic museums of art, Americana, and design, displaying 150,000 objects on 45 acres in 25 historic New England buildings. There's even a lighthouse. A full day of family fun waits here, May through October. Information: http://shelburnemuseum.org/
ECHO Lake Aquarium and Science Center
One College Street Burlington, VT, 05401 Phone: 877-ECHOFUN
This maritime-oriented science museum is located right on the shore of Lake Champlain, and its expertise is to study and enjoy the natural history of the Lake Champlain Basin. A visit to ECHO is a wonderful science and ecology expedition for children and families. Lots of expert work has gone into creating permanent exhibits about the ecology, wildlife, plant life, and Native human inhabitants of the region. Plenty of changing exhibits and fun seasonal activities to encourage kids to get involved in this fascinating maritime world. ECHO is open year round, 10 a.m. - 5 p.m., except Thanksgiving, Christmas Eve & Day.Information: http://www.echovermont.org/
Rock of Ages Quarry and Manufacturing
558 Graniteville Road Graniteville, VT, 05654 Phone: 866-748-6877
Learn about quarrying and try it for yourself. The Cut-In-Stone Activity Center offers hands-on activities for children and adults. Sandblast-a-souvenir allows kids to create a memento of their visit. Other activities include geology explorations and learning the hand signals of the quarry derrickman. Check for seasonal changes in programs.