Vermont hosts luxury weddings at ski & mountain resorts, country inns
All the basic needs and frills of luxury weddings, gay weddings, civil union ceremonies are available at Vermont ski and mountain resorts, country inns, and other luxury lodgings. Experts help plan the perfect wedding, offering essentials from music to flowers, along with luxuries like romantic suites, spas, and more.
1 Clubhouse Road Fairlee, VT, 05045 Phone: 802-333-4311 Toll-Free: 800-423-1211
Exchange your vows amidst natural splendor and a pristine lake
Say "I do" in a beautiful lakeside setting at the foot of the Green Mountains. This four-season vacation paradise is a premier wedding venue with stunning views of the mountains, the pristine lake and every luxury amenity you could ask for on your special day. Along with some of the most unique function space in New England that can accommodate from 60 to 600 guests, you'll have access to the resort's personal event coordinator, a full service set-up department and a professional wait and bar staff. Choose from four beautiful function rooms (three with direct access to the lake) and five outdoor venues, including the Lakefront, Terrace Patio, Hemlock Gardens, Mapleview Gardens and the Front Lawn. The on-site wedding coordinator services, included when you book a wedding with Lake Morey, will help ensure these great scenic spaces will make the most appropriate and meaningful setting for your vows and celebration.
Junction of Routes 103 and 131 Proctorsville, VT, 05149 Phone: 802-226-7361 Toll-Free: 888-764-6836
Classic towns, luxury accommodations and amenities for that special celebration
The perfect wedding in Vermont just might start in this picturesque New England haven. This delicious resort and spa is yours when you book your wedding and you'll be the only bride on the premises. You and your guests will find luxurious rooms with elegant décor, magnificent views of the lush Green Mountains, and high quality service and amenities. Take your vows in the outdoor gardens or in the library then enjoy the reception of a lifetime in two formal dining rooms or a reception tent that can accommodate up to 250 seated. From rehearsal dinner through next day's brunch you'll have the stately mansion, beautiful grounds and Aveda Concept Spa to share along with the help of our special wedding coordinator along the way.
Fourteen The Green Woodstock, VT, 05091 Phone: 802-457-1100 Toll-Free: 800-448-7900
Enjoy luxury accommodations and amenities
A luxury wedding is yours at this historic New England resort. Sprawling estate grounds offer colorful gardens, terraces and manicured lawns. Accommodations with every amenity await you and your guests. The facilities are state-of-the-art and luxury abounds in your choice of celebratory settings. The resort can accommodate from 20-300 in unique outdoor facilities and tented options, in the front and back garden areas, in ballrooms, or something more rustic, on a beautifully appointed working farm, ski lodge or small log cabin. No matter which you choose, you'll be at the perfect romantic destination where each season brings its own special colors and flavors. A variety of personal services are available to cover every detail from room reservations to dinner menus, wedding cakes and bridal showers.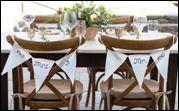 3835 Main Street Manchester Village, VT, 05254 Phone: 802-362-0147 Toll-Free: 877-699-3331
A perfectly luxurious place for a wedding
Among occasions that should be luxurious, weddings certainly must top the list. And there is no better place for you and your guests to feel pampered and worry-free than at one of the newest Kimpton boutique getaways, Taconic - a four-star hotel nestled in charming Manchester Village, Vermont. You may want an outdoor banquet from the restaurant on the premises or just time to relax and lounge on the terrace or by the pool. Short strolls will take you to an arts center, wooded trails and even fly fishing lessons as well as a museum on that subject. With 86 rooms to accommodate your guests, there also is childcare, a spa and a 24-hour front desk to help with your every need.