Vermont snow tubing requires little skill to harvest lots of thrill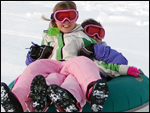 The only question we have about snow tubing is, "Why did it take so long to come up with this?!" The activity is simple, and a blast. Just hop onto an inflated tube and slide down the hill. This is great fun for
kids and families
. Note that many tubing hills have a minimum height limit -- usually 3 and 4 feet tall. Snow tubing may be offered as an activity at large downhill ski areas or at centers dedicated to tubing and other snow sports. Tubes are usually available to rent, but not always. Tubing depends on natural snowfall, so call ahead or check a ski or tubing area's website before you head out.
Killington Tubing Park
Across from Killington Grand Resort Hotel, 228 E Mountain Road Killington, VT, 05751 Phone: 800-621-MTNS
Tubing lanes, lift, night tubing under lights
Lots of tubing at this park near Killington ski area. Many lanes serviced by lift. Normally open mid-December through late March, Thursdays through Sundays, and selected peak days. Club house has warm pizza and pub food and drinks. Tubing party groups are welcome.

Hours: Thursday-Friday, 4-7 p.m.; Saturday, 1- a.m.-8:30 p.m.; Sunday, 10 a.m.-7 p.m. Admission: Tickets are valid for 90-minute sessions starting at opening time. Tickets include tube rentals and use of lifts. Tubers must be at least 42 inches tall. Adults over age 17, $17; youth under age 18, $15. Discounts on Thursday nights for Vermont residents. Information: http://bit.ly/JI2Gih
Sharp Park
204 Cobble Hill Road Milton, VT Phone: 802-891-6225
Tubing hill with tubes for rent; low admission fees; helmets required; warm-up barn
Sharp Park is a premier sliding hill. The lower slope is gradual and suitable for younger children; the upper slope is steep, 300 feet of vertical drop from the landing zone. Snow tubes work best from the 75 foot launch or lower on the slope. Helmets are mandatory for children and recommended for adults. Park has 35 children's helmets and 10 helmets for adults free of charge.

Park charges a gate fee of $10 per car for admission. Snow tube rentals are $12 for two hours. If you rent at least two tubes the park waives the gate fee. Sliding is free if you bring your own equipment. Monster (oversized) tubes are not permitted. No snowmaking; the slopes rely on natural snowfall. No towing up the hill.

There is a warm barn with bathroom, hot chocolate, drinks,snacks and free Wi-Fi. Open: Weekends, 10 a.m.-dusk. Call ahead to check on conditions before coming out. Information: www.sharppark.com/index.php/home/snowtubing/
Mount Snow Ski Area
Pisgah Road West Dover, VT Phone:
Daily snow tubing is offered at this large downhill ski mountain
Snow tubing is offered at this large Alpine ski mountain. The tubing hill is one of the biggest in Vermont and it has a covered surface lift that carried tubers back to the top for more sliding. The tubing trail is known as the Mixing Bowl and is is located in front of Mount Snow Sports at the Grand Summit Hotel in the main base area. Buy tickets at the Clocktower Building, the Toll Haus, and at the Mount Snow Sports. Tickets are for 90 minutes of tubing from the time of the first run. Tickets are valid only on the day you buy them. Hours: 10 .m.-6 p.m. Fee: $20 per 90-minute session.
Magic Mountain Ski Area
495 Magic Mountain Access Road Londonderry, VT, 05148 Phone: 802-824-5645
Snow tubing is offered at this downhill ski area; family friendly; 70% snowmaking
This is a small, local, neighborly, and traditional ski area. Most emphasis is on downhill skiing, but snow tubing is offered. Magic selected as a Top 5 Place for Snow Tubing by Yahoo Sports. Rates for snow tubing are $25 from 11 a.m. to 7 p.m.; $20 from 4 to 7 p.m. Tubing park can be opened for group events. For special group rates, call 802-824-5645 ext. 116.

One restaurant and one bar on the property. Social life at Goniff's Den. Snow tubing is offered at this downhill ski center; family friendly; annual snowfall of 13 feet; 70% snowmaking
Okemo Mountain Resort / Jackson Gore
77 Okemo Ridge Road Ludlow, VT, 05149 Phone: 802-228-1600
Daily tubing at several lanes on large downhill ski area
This tubing park is near the magic carpet at Jackson Gore. Children must be at least 42 inches tall to ride tubes and parents must sign a waiver for youth under age 18. A one-hour session costs $12. Hours: Sunday-Friday, noon-5 p.m.; Saturdays and holidays, 11 a.m.-7 p.m. Information: http://bit.ly/1bdB1LQ
Grafton Ponds Outdoor Center
783 Townshend Road Grafton, VT, 05146 Phone: 802-843-2400
Snow tubing is offered at this cross-country skiing and snowshoeing center
This is a year-round outdoor recreation center. Winter offerings include Nordic (cross country) skiing, snowshoeing, and snow tubing hill in the winter. Snow making is done starting in mid-December. There is a 600-foot snow tubing run.

A base lodging offers rentals and lessons and repairs. Dogs are welcome on the property on Mondays and Thursdays.