Vermont beaches edge the shores of Lake Champlain & other lakes
Lake Champlain, aside the capital city of Burlington, is a magnificent, clear, crisp northern water body in all seasons. The many state parks around the lake have beaches, camping, and other services for a memorable
family vacation
. Many other mountain lakes and swimming holes offer sumptuous beaches for tourists to Vermont. Many
waterfront lodgings
are perfectly divine for a
romantic getaway
.
Warren Falls
Near VT Route 100 South and Covered Bridge Road Warren Falls Near VT Route 100 South and Covered Bridge Road Warren VT, VT Phone:
The Mad River tumbles down a series of boulders and dives into one of the best swimming holes in New England at Warren Falls. The pool at the bottom of the falls is green, clear, and welcoming. Jumps of 10, 15, and 20 feet from the rocks above can be done safely, with normal caution. Lots of people congregate at this falls and swimming hole purely for the pleasure of the leap. Parking is available but limited. No parking fees. Use common sense for safety when jumping. Wait for pool below you to clear of swimmers.
To Get There: From Warren, drive northwest on Fuller Hill Road; make a left turn onto Main Street; make a right turn onto Covered Bridge Road; make a left turn onto VT Router 100 South; watch for the falls on the right a mile down the road.
3570 Lake Dunmore Road (Route 53) Brandon, VT, 05733 Phone: 888-409-7579
Popular for hiking and swimming; pets allowed in day use area and campsites
This park's The 1,000-foot natural sandy beach on Lake Dunmore and the large open grassy areas make the area popular for swimming, sunning, or picnicking. Non-motorized small boats are available for rent.
See a
full description
of Branbury State Park.
2008 Scout Camp Road Ludlow, VT, 05149 Phone: 802-228-2025
One of Vermont's top parks for paddling; beach; boat rentals; horse camping; walking trails
A large picnic area in this day use-and-camping park has a play area, sandy beach, concessions, and boat rentals. Open: Memorial Day-Columbus Day; day use hours, 10 a.m.-sunset
See
full description
of Camp Plymouth State Park
22 Cedar Mountain Road Castleton, VT, 05743 Phone: 802-265-4242
Good for camping, swimming, fishing, boating w/ rentals; pets allowed in campground
The park has a beach for swimming and a picnic area. Also at the swimming beach are a snack bar, rentals of canoes, kayaks, rowboats, and pedal boats. See
full description
of Bomoseen State Park.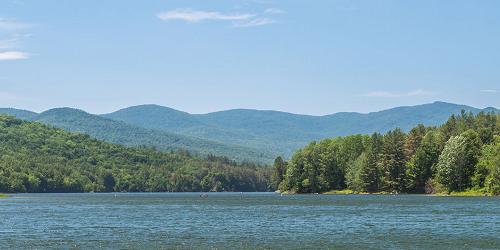 177 Reservoir Road Waterbury Center, VT, 05677 Phone: 802-244-1226
One of VT's top five parks for paddling and boating; also, swimming, fishing; no pets
Waterbury Center State Park is on a peninsula of the Waterbury Reservoir. It is very popular for water sports, swimming, boating, and fishing. Picnic sites, tables, grills, swimming beach, nature trail, trailer boat ramp, boat rentals, concession area and restrooms.
See
full description
of Waterbury Center State Park.
151 Coon Point Road Alburg, VT, 05440 Phone: 802-796-4170
This 625-acre park is named for the sand dunes near the center and western end of the south-facing sand beach, one of the longest beaches on Lake Champlain. There is no public drinking water at the park, and fires are allowed only in grills in the picnic area. Sanitary facilities, picnic and parking areas are at the west end of the beach. The beach road (closed to motor vehicles) is a bicycle and pedestrian path between the dunes and wetland. Day use hours are from 10 a.m. to sunset. Open late May to early September.
36 East Shore South Grand Isle, VT Phone: 802-372-4300
Many campsites; large sandy beach, swimming, shore fishing, sports fields
Grand Isle State Park is located on the largest island in Lake Champlain. The Grand Isle is also known as South Hero. Lake shore areas permit water access for swimming and shore fishing. Campers are also allowed free entry to the sand beach at Knight Point State Park seven miles north and Alburg Dunes State Park 19 miles north.
See a
full description
of Grand Isle State Park.
2714 Hathaway Point Road St. Albans, VT, 05481 Phone: 802-534-6021
Swimming and boating; kayaks for rent; public boat ramp; pets not allowed
The south-facing swimming area at this park, located on a long peninsula, has a sandy bottom and a public boat launch ramp.
See
full description
of Kamp Kill Kare State Park.
1621 Black Pond Road Hubbardton, VT Phone: 802-273-2848
Good park for camping, hiking, boating, paddling, fishing; no day use; pets allowed
Half Moon Pond Park wraps around Half Moon Pond. This is a camping only park and there are no day use opportunities for people other than campers at the park. Two sandy beaches are good for swimming and boating; visitors may rent kayaks, canoes and pedal boats (no motor boats allowed). The pond also has excellent fishing. Season: Memorial Day-Columbus Day.
See a
full description
of Half Moon Pond State Park.
3034 VT Route 30 South Poultney, VT, 05764 Phone: 802-287-9158
Lake side camping; beach; boating, fishing; boat rentals; pets allowed except in day use area
The park has nice and welcoming picnic and play area and a swimming beach. Non-motor boats are available to rent at the beach concession.
See a
full description
of Lake St. Catherine Park.
856 VT Route 12 Lake Elmore, VT, 05657 Phone: 802-888-2982
Good family camping; hikes and walks; lake swimming; pets but not on beach
Lake Elmore, the centerpiece of this park, is 219 acres. The park's day-use area has a large sandy beach, a beach house with a community room that can be rented by groups for parties, a concession stand and cafe, restrooms, and boat rentals, and an open-air picnic pavilion. An entire beach house is available for rent from Thursday before Memorial Day to Labor Day for $450.
See a
full description
of Elmore State Park.
96 Bellwater Avenue Barton, VT, 05822 Phone: 802-525-6205
Swimming and boating in a glacial lake; cottage for rent; pets not allowed
Crystal Lake is a glacial lake with a mile of sandy shoreline that includes a designated swimming area. The bathhouse has bathrooms, changing areas, and a concession stand. Also: picnic tables, charcoal grills, play areas, boats and canoes for rent.
See
full description
of Crystal Lake State Park.
65 Emerald Lake Lane East Dorset, VT, 05253 Phone: 802-362-1655
Great camping, swimming, paddling, fishing, walking, hiking; motor boats prohibited
The 430-acre park is located along the side of Dorset Mountain with Emerald Lake, the head waters of Otter Creek, at its base. There is a small beach with snack bar and boat rental facilities. Swimming, fishing, and boating (no motors) are popular in the lake.
See a
full description
of Emerald Lake State Park.