Casual Dining in Vermont brings you the freshest foods in a relaxed setting
Casual dining is a specialty in Vermont, where farmers and food producers take pride in their work and their mountain culture. Restaurants, cafes, bistros, and bars and grilles keep it fun and festive. Sit on the
waterfront
, beside a crackling fire, dine al fresco on the deck, enjoy
spa
cuisine poolside, or a hearty brunch feast in a cozy setting. You'll find the best New England fare, inspired burgers, cold beer on tap, places with plants, lots of natural light and atmosphere. The food is Vermont fresh, with locally sourced ingredients in everything from microbrews and sumptuous entrees to mouth-watering desserts.
135 U.S. Route 5 South Norwich, VT, 05055 Phone: Toll-Free: 855-371-2253
Relax in this tasty atmosphere and learn how to bake like the masters
If you like to browse, taste, sip, and savor along the way you'll love this enchanting emporium in Norwich, Vermont. The campus is all about baking all the time but you can enjoy the Bakery/Café and its own special treats from the barista-style coffees, teas and pastries to the soups, salads and sandwiches. Continue your feast on the drive home by picking up a baguette, sourdough loaf, chocolate chip cookie, or sticky bun. You can learn some delicious baking tips at the Baking Education Center where you can watch artisan bakers at work in the state-of-the-art bakery. Then stop in at the Baker's Store and pick up mixes, top-quality baking equipment, hard-to-find ingredients, pans, and kitchen tools you'll need to enhance your own casual and tasty dining at home.
1746 Mountain Road Stowe, VT, 05672 Phone: 802-253-7355 Toll-Free: 800-253-2232
Savor causal cuisine in a majestic setting all year round
This magnificent resort is also home to a casual dining experience with many local, farm fresh and comfort food menu options. A popular Stowe eatery, Charlie B's Pub & Restaurant is a fun and festive on site restaurant serving tasty Vermont Fresh fare, and is the perfect spot for unwinding with a craft beer, cocktail, or glass of a wine from the award-winning wine cellar. You can select from over 3000 bottles and 50 wines available by the glass. Charlie B's serves breakfast, lunch and dinner daily. During the winter, sit beside a crackling fire and enjoy live entertainment. All summer long, dine al fresco on the deck and enjoy lighter spa cuisine including the signature bento boxes at the Poolside Spa Café.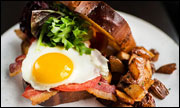 3835 Main Street Manchester Village, VT, 05254 Phone: 802-362-0147 Toll-Free: 877-699-3331
Locally sourced food is fabulous, not fussy, at this laid-back tavern
At The Copper Grouse in the Kimpton Taconic Hotel, they believe that food can be creative, sophisticated and soul-satisfying without being pretentious. Diners who return again and again to the comfortable tavern would agree. Start with a local craft brew or a cocktail with a literary twist (try the Ancient Mariner), then dine on some locally sourced specialties, like cheddar ale soup, cider-brined chicken, New England baked beans or house-made cannelloni. Maybe you'll decide to stay after dinner, sit by the fire pit in a comfortable chair and sip some local whiskey. (Or maybe you'll just have coffee and the maple creme brulee.) The tavern, where service is as warm as the atmosphere, also serves a hearty breakfast and a tasty lunch.