Classic Foods of Vermont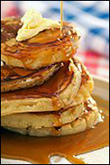 Vermont has a long history of small, independent farms and tough, independent-thinking people. From century to century, this land of steep hills and rocky soils has had to reinvent itself economically, using a limited range of resources. In the realm of food, that has led to a flowering of maple syrup and maple products from the unique sugar maple forests; cheese, chocolate, and ice cream from the dairy farms; and creative use of local products from local farms, fields, and woods. For some tips on where to find and dine on these regional specialties see below at, see below at • Maple, • Dairy, • Localvore Foods, and • Apples and Cider.
---
Maple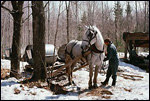 Vermont is the largest producer of maple syrup in the U.S. When you travel to Vermont be sure to include time for visiting sugarhouses -- each one has its own personality. From small, traditional sugarhouses deep in the woods to large sugarhouses using equipment with the latest technology, you can watch the pride and care that goes into producing Vermont's first agricultural product of the year. The Vermont maple season typically lasts from early February in southern Vermont to April in northern Vermont. But many sugarhouses are open year long to visitors. Please call in advance to make sure that the maple producer will be open on the day you want to visit.
Southern region

Merck Forest & Farmland Center
3270 Route 315
Rupert, VT
802-394-7836
Merck Forest offers programs and demonstrations for visitors.. Forest demonstrations include recreation, habitat preservation, maple sugaring, timber harvests, forest roads and water control and wildlife habitat management. Open year round, daily, the property is open to the public from dawn to dusk. There is no admission fee. Pure Vermont maple syrup and other farm and forest products may be purchased at the Welcome Center. Map
Central region

Ledge Haven Farm
145 Mount Independence Road
Orwell, VT
802-948-2545
Ledge Haven Farm is a family-run dairy farm located near the shores of Lake Champlain, down the road from historic Mount Independence. The family has been making Vermont maple syrup for over 40 years. Grandpa Ferland taught Tom and Mike the art of sugaring in the early 1970s. Since then the sugarhouse has tripled in size. Improvements have been made over the years, allowing for larger evaporators and gas finishing pans. Wood is still used to fire the evaporator and the sugarhouse maintains it rustic charm. Map

Sugarbush Farm
591 Sugarbush Road
Woodstock, VT
802-457-1757
The Sugarbush Farm family is famous for its excellent waxed cheeses and Vermont maple syrup made here on this farm. The public invited to visit. You can learn about maple syrup making with the sugar house tour, walk the nature trail to see the sugar maple trees, make friends with the farm animals and enjoy the lovely views. Maple syrup display is open year round, although the actual maple syrup making season is in March and April. Map
Northern region

Vermont Maple Outlet
3929 Vt Route 15
Jeffersonville, VT
802-644-5482
This family-owned and -operated outlet has been producing award-winning Vermont maple syrup for 100 years. The staff makes maple candy and maple cream right in the candy kitchen on the premises. The country store, in our 20th year, also carries a large variety of other maple products, Vermont cheeses, cob-smoked meats and Vermont specialty foods along with handmade crafts and clothing. Map
---
Dairy, Cheese, Chocolate, Ice Cream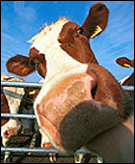 Vermonters love, love, love their cows and their dairy farms and – above all – their dairy farming traditions. Although the number of small dairy farms has declined in recent decades, many are still going strong, in an economic community that knows exactly what to do with all that milk: turn it into wonderful cheeses, chocolate, and ice cream, that's what. As a simple demonstration of that point, note that Vermont is the home base of the world-famous Ben and Jerry's ice cream operation. Need we say more?
Southern region

Vermont Shepherd
281 Patch Farm Road
Putney, VT
802-387-4473
Vermont Shepherd, also known as Major Farm, in Putney, has been making award-winning sheep and cow's milk cheeses since 1993. These farmhouse cheeses are full of flavor and have beautiful natural rinds. Visitors are welcome to the Vermont Shepherd Farm Store. It is open year round, daily, 9 a.m. to 5 p.m. and is located in the middle of the farm with the views of the sheep grazing on high hay fields. All the farm's products -- cheese, ricotta, wool, and wool products – are available in the farm store. Map

Mother Myrick's Confectionary
4367 Main Street
Manchester Center, VT
802-362-1560
Usher the sweet tooth in your life (or in your head) to Mother Myrick's Confectionary in Manchester Center for a cozy time browsing and selecting from among the best candies and confections to be found anywhere. Specialties of the house are the buttercrunch and the lemon lulu, but don't feel that you need to stop there. Plunge on into chocolates and other good tastes. Hours: 9 a.m.-6 p.m.
Map

Grafton Village Cheese Company
Grafton and Brattleboro, VT
800-472-3866

Grafton Village Cheese Company operates two retail shops, one in Grafton and one in Brattleboro. Both shops feature a full-service artisanal cheese selection, fine wines, Vermont microbrews, specialty foods, fresh breads, and Vermont products and gifts. Daily cheese tastings. The Grafton shop is at 55 Townshend Road. The Brattleboro shop is at 400 Linden Street. Both are open daily. Map
Central region

Cabot Creamery Visitors Center and Tour
2878 Main Street
Cabot, VT
1-800-837-4261
Cabot Creamery Cooperative, founded by 94 pioneering dairy farm families in 1919, has grown to more than 1,200 farm-family owners throughout New England. The Cabot Visitors Center in Cabot offers tours of the cheese making plant as well as samples of "The World's Best Cheddar" in its retail store. On the guided tour guests will see the award-winning cheese as it's being made and learn lots about cheese making, Cabot's history, and Vermont agriculture. After the tour, cheese tasting is offered. Open daily June through October and daily except Sundays the rest of the year. Call for hours.
Map
Northern region

Lake Champlain Chocolates Factory Store & Cafe
750 Pine Street
Burlington, VT
802-864-1807
You can take a free tour of the factory and watch the creation of these delicious confections. Free samples are plentiful and a retail store on the property makes it easy to take the treats back home. Deep discounts are offered on factory seconds. The Factory Store is open Monday-Saturday, 9 a.m.-6 p.m. and Sunday, 11 a.m.-5 p.m. Tours are offered Monday-Friday, 10 a.m. to 2 p.m. on the hour. Self guided tours are available at 3 p.m. No reservations are needed for a tour. Free chocolate tastings are on the weekends from 11 a.m. to 4 p.m. Other retail stores selling Lake Champlain Chocolates are at 65 Church Street in Burlington (802-862-5185) and at the Chocolatier and Café on Route 100 in Waterbury Center (802-241-4150).
Map

Ben & Jerry's
1281 Waterbury-Stowe Road
Waterbury, VT
802-882-1240

We all have some level of acquaintance (adoration?) with Ben & Jerry's ice creams, so a trip into northern Vermont practically begs for a visit to the factory store in Waterbury. The company and its very pretty cows (see its website) are located on rolling pasture overlooking the Worcester Range. Don't miss the guided factory tour of the ice cream production process. The tour starts in the Cow Over the Moon Theater with a 7-minute movie. Followed by a tour of the factory floor and then a stop in the FlavoRoom for tasting. Map

Laughing Moon Chocolates
78 South Main Street
Stowe Village, VT
802-253-9591

Customers can watch as chocolates are cooked and hand-dipped. Laughing Moon also makes its our own fudge, ice cream, and ice cream sauces; it serves baked goods and specialty coffee and hot chocolate. Demonstrations and workshops are available. Open year-round, daily, 9 a.m.-6 p.m. Map




Mount Mansfield Creamery
20 Pleasant Street
Morrisville, VT
802 -888-7686

These farmers milk their own Holstein & Brown Swiss cows to produce a number of raw milk cheeses using recipes with European origins. The cheeses are aged a minimum 60 days in a cheese cave. The creamery's cheeses are sold in Stowe's Harvest Market and Mountain Cheese and Wine, Morrisville's Green Top Market, Rock Art Brewery, and at the Creamery. The creamery offers cheese making classes, tours, and tastings. Call ahead for reservations and times. Map
Localvore Food

Because of their historically independent temperament combined with a high regard for the health of the environment, Vermonters are gung-ho about local sourcing of foods. Restaurant menus, retailers, and farmers markets throughout the state are stuffed with products grown or cultivated within state borders. Among the most well-known are dairy and maple products, and treasured seasonal oddities like fiddlehead fern in springtime.
Where to Find Local Foods in Vermont
Southern region

The Old Tavern
92 Main Street
Grafton, VT
800-843-1801
Price Range: $60 or more for meal, drink, tax, tip
As a member of Chef's Collaborative, the restaurant promotes the use of seasonal, locally grown food and artisan products to achieve exceptional flavors. The Old Tavern maintains a bountiful kitchen garden that supplies fresh, organic produce to inn's restaurant. This pretty and practical garden boasts an impressive roster of vegetables, most of which are heirloom in variety. Menu highlights include foie gras and black truffle brulee, coriander seared elk steak, and bacon wrapped beef tenderloin.
Map

Hermitage
25 Handle Road
West Dover, VT
877-464-3511
Price Range: $60 or more for meal, drink, tax, tip

Paul Eschbach, head chef of The Hermitage, has created an innovative menu featuring many Vermont products produced by forward-thinking farmers and food producers, instilling a farm-to-table approach to the menu. The menu brims with New England-sourced foods like scallops, oysters, quail, cod, wild salmon, prawns, Maine lobster, pork, wild mushrooms, leafy greens, cheeses, and more. Special offerings that allow guests to explore a whole range of Vermont cuisine, indoors and out, include Second Saturdays in the Cellar wine tastings; Sandwiches and Soups to Go, a food outlet near the town's covered bridge; Sunday Brunch; and Hermitage Family Dinners to Go. Map
Central region

Farmers Diner
5583 Woodstock Road (Route 4)
Quechee, VT
802-295-4600
More than 40 Vermont farmers deliver fresh produce, meats, and other foods daily to the back door of the Farmer's diner, which is proud to offer guests a true Vermont dining experience. Request a table-side info visit to hear about preserving and creating local farming, carbon footprint reduction, reviving local economies & eating healthy, affordable American comfort food, just buying local. Farmers Diner inducing change one cheeseburger at a time. Awards to the restaurant, with the slogan "Food From Here," include Greenest Restaurant in the U.S., Top 15 Green Chefs, and Top 10 Places To Eat. Open year-round, daily.
Map

American Flatbread at Lareau Farm
46 Lareau Road
Waitsfield, VT
802-496-8856

American Flatbread restaurants feature local, regional, and organic ingredients grown by Vermont farmers. American Flatbread restaurants work to establish a community-based, farm-to-plate network. The menu features signature flatbreads, a salad of seasonal greens, and homemade desserts. The weekly specials showcase each season's harvest. Each American Flatbread Restaurant offers flatbread unique to its region, accentuating the specialties of local farmers, cheesemakers, and other food producers. The company began operations at Lareau Farm in Waitsfield, where production takes place Monday through and a casual dinner by the fireside is served Thursday through Sunday. Other restaurant locations are 115 St. Paul Street in Burlington (802-861-2999) and at the Marble Works, 137 Maple Street in Middlebury (802-388-3300). Map

The Bobcat Café
5 Main Street
Bristol, VT
802-453-3311
Price Range: $10 to $30 for meal, drink, tax, tip

Located at the heart of the Green Mountains, the Bobcat serves handcrafted beers along side homemade food that is fresh and creative. The kitchen focuses on using local ingredients to enhance this restaurant's creative comfort food. The waiters – known for their friendliness -- can tell you about the source of the food and how it was prepared. Look for the delicious meatloaf, French fries, succotash, among other specialties. The Bobcat's 100-member Mug Club is a testament to the dedication of its regular patrons. Map
Northern region

Healthy Living Market and Café
222 Dorset Street
South Burlington, VT
802–863–2569
Healthy Living is Burlington's independently owned community natural foods market working with a strong commitment to community outreach and local organic agriculture. And adjunct to the market is the café, which started with a crock pot of vegetarian chili back in 1986, and now boasts a staff of 40 and serves hundreds of people every day. The café has become famous for its eclectic mix of ethnic foods, vegetarian and vegan options local meat dishes, a super bakery, custom built sandwiches and paninis. Open daily.
Map

The Kitchen Table Bistro
1840 West Main Street
Richmond, VT
802-434-8686
Price Range: $30 to $60 for meal, drink, tax, tip

The Kitchen Table Bistro, part of the Vermont Fresh Network, buys from as many local farms and businesses as possible. The menu changes frequently to reflect the season changes in Vermont. The restaurant's website lists dozens of local producers of foods and beverages. Among the intriguing choices on a recent menu are roasted haddock, lobster mashed potatoes, creamed chard, truffled lobster emulsion and Vermont rabbit and house garlic sausage cassoulet with carrots. Map
Apples and Cider
Northern region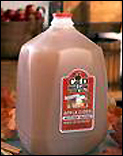 Cold Hollow Cider Mill
3600 Waterbury-Stowe Road (Route 100)
Waterbury Center, VT
800-3-APPLES
Cold Hollow Cider Mill packs 12 pounds of apples into one gallon of its fresh Vermont apple cider. The old-fashioned "rack and cloth press" squeezes the McIntosh apple at its finest moment, to get all the best taste into the bottle. This cider syrup is the secret ingredient to many of the natural specialty foods sold at the on site bakery. Tours of the mill are self-guided, free, open to the public with no reservations required. If cider is not being pressed, an educational video shows the cider making process. The mill presses year round, two to four days a week in the summer and daily beginning in September.
Map