Take a factory tour for an in-depth look at Vermont industries & its people
What could take you deeper into the heart and history of any region than a tour of a home-grown industry or business? A factory tour can be one of the more interesting and memorable highlights of your getaway or
family vacation
. See how things are made and meet the people who support and sustain these local industries. ften there is opportunity to sample or purchase the goods being made: ice cream, chocolate candies, pottery, woolens or teddy bears, anyone? Tuck in to a sweet little
inn
and spend a few days exploring!
750 Pine Street Burlington, VT, 05401 Phone: 800-465-5909
Visit our Vermont Chocolate Factory for a Sweet Experience
While in Vermont make sure you take some time to experience the inner workings of a real chocolate factory. See how chocolate is made and enjoy plenty of fresh samples! Our 30 minute guided tour is seated and begins on the hour, 11am-2pm Monday-Friday. Self guided tours are available after 3pm and before 10 am. We also offer chocolate tastings on the weekends from 11am-4pm. Who can resist the sweet taste of gourmet truffles, caramels, almond butter crunch and more. Learn about the chocolate making process in its entirety from cacao bean to giant bunny. You can't get any better than this-fresh, all natural Vermont chocolate!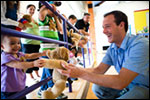 6655 Shelburne Road Shelburne, VT, 05482 Phone: 802-985-3001 Toll-Free: 800-829-2327
Come for a Vermont Teddy Bear Factory Tour!
Vermont Teddy Bears are known for their adorable faces, soft fur and exceptional personalities. See how they come to life by taking a factory tour! Tours run daily and are 30 minutes long. Knowledgeable Bear Ambassadors walk you through the sewing, stitching and stuffing, so you can see for yourself just how each Bear is handmade. You'll also see how our Bear designers create new outfits and you'll meet Nancy, our Bear Doctor. When you finish your tour, visit our Bear Store where you can choose one of our handmade Bears, or make one of your own. All tour and store information is available on our website.
1168 County Road Montpelier, VT, 05602 Phone: Toll-Free: 800-242-2740
Discover the magic of Maple and the people that process it
Learn how maple syrup gets from tree to table. Discover more of the story and get up close to the process and people that have been making it through eight generations and some 200 years starting with ancestors who were taught how to tap maple trees by Native Americans. Walk on nature trails, watch a humorous educational video, and get a taste of sugar on snow - hot maple sugar turned to taffy when it's drizzled over shaved ice and served with a fresh donut. Open year round for fun of every flavor from leaf peeping to skiing to sugarin' time and warm summer days. There's a farmer's market in season and the gift shop with everything maple and more.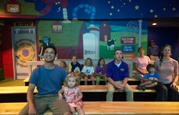 1281 Waterbury Stowe Road Waterbury, VT Phone: 866-258-6877
The best tasting tour you'll ever take
On your way through Vermont, stop in Waterbury at one of the area's most popular attractions - the original Ben & Jerry's Factory. The 30-minute guided features a fun loving tour host who will tell you how this great ice cream is made, how Ben and Jerry got their start, and the good business practices that go into sourcing the delicious ingredients all the way from the cow to cone. During the week you can overlook the production process and get your question answered in the Flavorroom while you sample the flavor of the day. Finish off your visit in the scoop shop for a cup, cone, sundae or milkshake created from your favorite flavors or try a new flavor.